Give The World's Greatest Dad The Greatest Gift of All
Father's Day Picnic Buffet. Sunday, June 19, 2016 | Noon to 6PM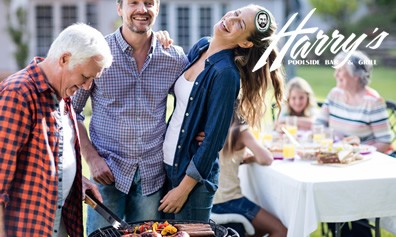 A la carte lunch 11AM – 5PM
A la carte dinner 5PM – 10PM
Seating available both inside and outside.

Price: $27.95* Adults
$13.95* Children (4-12)
Plus beer specials for Dad all day long.
*Plus tax and gratuity. Not valid with any other offers or special menus.

This year, give Dad what he really wants – a cold drink, a grilled feast and none of the work at Harry's Poolside Bar & Grill. Fit for a king, our Father's Day Picnic Buffet features everything from fresh soups and salads to savory grilled and smoked entrées. Top it off with a dessert that's sure to make his after-dinner nap even sweeter.

For reservations and more information, please call (407) 996-8551 to RSVP. Complimentary Valet or Self-Parking.
+ Father's Day Picnic Buffet Menu
A desktop or laptop Computer is required to view content on this page!