Chef Michael Rumplik,
Head Chef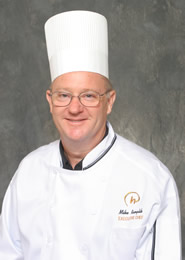 As head chef, Michael Rumplik is responsible for overseeing all of the hotel's restaurants, including the fine-dining Everglades Restaurant and Café Gauguin, as well as meals for convention guests.
Before being named Head Chef of the Rosen Centre® in 2007, Rumplik spent nearly eight years working as the executive chef at the Rainforest Café in Disney's Animal Kingdom, where he developed new menus for the chains' restaurants throughout the United States. Prior to working for Rainforest Café, Rumplik honed his culinary expertise at restaurants and hotels in nine cities in the United States and Germany over the course of 22 years, including the Peabody Hotel in Memphis, Walt Disney World Dolphin Resort, Biltmore Plaza Hotel in Providence, R.I., and the AMFAC Hotel and Resort in Dallas.
Rumplik has received honors for both his culinary skills and his people skills—he won Meeting & Conventions Magazine Gold Platter award for Catered Food and Beverage for six consecutive years from 1992 to 1997, and was named Supervisor of the Year in 1983 by the AMFAC Hotel and Resort. Rumplik graduated from Johnson and Wales School of Culinary Arts in 1976 and received a bachelor's degree in hotel management from Bryant College.