Stephan Schmid, Head Pastry Chef, Rosen Centre®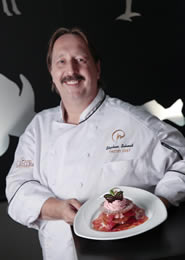 Stephan Schmid knew from the time he was just 14 years old that he wanted to pursue a career in culinary arts. Since sweets were a particular passion of his, it wasn't hard for him to choose pastry as his specialty.
Schmid began his career in Switzerland where he spent five years preparing French food and pastries at the Hotel International, Basel. He operated his own cooking school in Mexico for a short time before moving to Washington, D.C., where he worked for several restaurants and hotels. Making his way to Florida, he spent 11 years working as a pastry chef for Marriott International hotels before joining Rosen Centre® in 2006. He continues to share his passion for pastries as a teacher of culinary arts at MidFlorida Tech, in Orlando.
Now with 35 years of experience as a pastry chef under his toque, Schmid has developed his own signature style of seasonal desserts for Rosen Centre®'s convention and leisure guests, helping the hotel to receive the prestigious Gold Platter award from Meetings & Conventions magazine, which is given to fewer than 25 of the most outstanding hotel food and beverage departments nationwide.
Among Schmid's spring and summertime specialties are light and refreshing miniature desserts such as his guava flan, a crème brulee with a touch of Grand Marnier, or his Key lime pie with a Key lime and honey mousse in a graham cracker crust. His signature dessert sushi roll resembles the real thing, including sweet sushi rice and pastry cream with fresh papaya and kiwi, blanketed in a paper-thin soy wrap.
Fall and wintertime bring about their own seasonal desserts, with apple, eggnog and pumpkin flavors taking center stage. For those who still want to indulge in a decadent dessert, Chef Schmid always offers his cornerstone dessert,chocolate marquis, a rich fudge cake.