Chef Yoshi Kohazame,
Head Chef, Bansho Sushi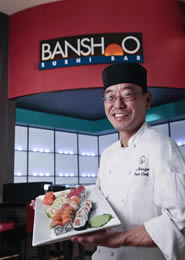 As a young boy in Okinawa, Japan, Yoshi Kohazame spent many an evening gathered with family and friends watching the bright orange sun setting into the crystal blue waters off the coast of his island home. Today it is only fitting that the restaurant he helped develop, Banshoo, be named as such, which means "sunset" in Japanese. Here, Chef Yoshi's 20 years of experience, cooking and creating sushi in some of Orlando's finest Japanese restaurants is rolled into every bite. With a passion for seafood, an unwavering commitment to fresh, quality ingredients and a gift for artistic presentation, Chef Yoshi has created an intimate dining experience for family and friends, and a diverse menu of appetizer-sized rolls and specialty dishes worthy of the name Banshoo.