"Cinco De Tello" April Challenge
Winning Recipe
Tello's Creation: Eric's Chocolate Ancho Marinated Skirt Steak with Orange, Almonds, Couscous and Pineapple Salsa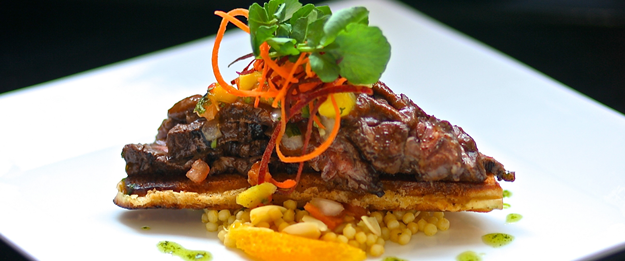 Yields 8 servings
1 cup red wine vinegar
¼ cup unsweetened cocoa powder
¼ cup brown sugar
¼ cup olive oil
2 tablespoon ground cumin
1 tablespoon Ancho chili powder
1 tablespoon garlic powder
1 tablespoon salt
Pinch ground black pepper
4 pounds flank steak
Directions:
In a large re-sealable plastic bag, combine vinegar, cocoa, brown sugar, olive oil, cumin, chili powder, salt, and pepper. Add flank steak; seal bag, and refrigerate for 1 to 2 hours or overnight.
Remove steak from marinade and discard marinade. Place steak on the griddle and cook for 6 minutes on each side for a medium-rare. When cooked to desired doneness, remove from the griddle, to a cutting board, and let rest for few minutes. Cut steak across the grain into thin strips. Serve with Pineapple Salsa and garnish with chopped cilantro, if desired.
Orange Couscous Recipe
---
1 cup orange juice
1 cup water
1 teaspoon ground cumin
10 ounces couscous
¼ cup shredded Parmesan cheese
2 tablespoons oil
2 tablespoons lime juice
2 tablespoons soy sauce
¼ cup chopped cilantro
2 tablespoon fresh basil
1 teaspoon minced fresh gingerroot
1/4 teaspoon salt
11 ounces Mandarin oranges, drained
1/4 cup slivered almonds, toasted
Directions:
In a large saucepan, bring orange juice, water and cumin to a boil. Stir cheese with couscous; remove from the heat. Cover and let stand for 5 minutes or until liquid is absorbed; fluff with a fork. Transfer to a large bowl and cool. In a small bowl, whisk the oil, lime juice and soy sauce. Stir in the cilantro, basil, ginger and salt. Pour over couscous and toss to coat. Add oranges and almonds; toss gently. Refrigerate until serving.
Orange Couscous Recipe
---
1 whole pineapple, peeled and diced
1 avocado, halved, pitted, and flesh diced
¼ cup small diced onions
1 Jalapeno diced and deseeded
¼ cup small dice tomatoes
1/4 cup minced fresh cilantro leaves
1 tablespoon fresh lime juice
1/4 teaspoon salt
Directions:
In a medium bowl, combine pineapple, avocado, onion, cilantro, lime juice and salt. Cover and refrigerate for 1 hour.
To assemble dish:
Put the Orange Couscous in the center of the plate with a toasted piece of bread on top. On top of the bread, put the beef and garnish with Pineapple Salsa.