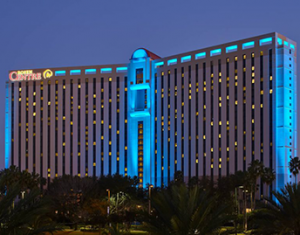 If you're looking for the perfect space to host your next Orlando company meeting or event, look no further than the Rosen Centre Hotel.
Luxurious Ballrooms and Meeting Spaces
Totaling more than 150,000 square feet of meeting space, Rosen Centre has 35 meeting rooms and three ballrooms, including: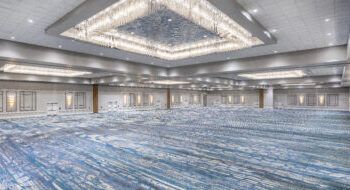 Grand Ballroom – Our signature meeting space, the 35,000 square foot Grand Ballroom can comfortably seat up to 4,000 people. Freight doors in the back of the ballroom provide easy unloading for conventions. For breakout rooms and more private events, retractable air walls can divide the Grand Ballroom into as many as five, smaller rooms.
Executive Ballroom – Simultaneously intimate, spacious, and accommodating, this new, columnless, eye-catching, 18,000 square foot ballroom boasts a large pre-function area to entertain attendees.
Junior Ballroom – Featuring theater-style seating, the Junior Ballroom can hold up to 1,500 people.
Increased Technology
Hosting a presentation or conference in the 2020s means you'll need access to the best, fastest, and most recent advancements in digital connectivity.
The Rosen Centre is equipped with the latest upgrades in wireless technology. Our 802.11n, self-healing wireless network, installed at the recommendation of Cisco and CDW, offers increased bandwidth, high speeds, and large capacity—perfect for a meeting of any size.
We're also integrating interactive in-room TV aspects with our fiber-ring connected Rosen campus network to keep your meeting guests online 24/7.
Ample Amenities
When you host your event at Rosen Centre, you're also gaining access to our on-site amenities.
Our award-winning banquet staff has crafted a catering menu to satisfy your guests for every meal of the day and can be customized to fit the dietary needs of anyone in your party. Some other amenities include:
Multiple registration desks with ample storage
Restaurant discounts
Audiovisual discounts
Golf discounts
CSR Program Assistance
Schedule Your Event at Rosen Centre Today
When planning your Orlando conference or event, book a meeting space at Rosen Centre by filling out this form.
Our hotel provides luxurious rooms and event spaces at an affordable price. Located on International Drive, we provide convenient access to the Orange County Convention Center and some of Orlando's top restaurants, bars, and attractions.
We are dedicated to upholding the highest standards of safety for the well-being of our guests and associates. New hotel features include clear protective borders at our front desk and more frequently cleaned common areas, touchpoints, and guestrooms with EPA-approved disinfectants.
Read all the details on our Rosen's Total Commitment page.