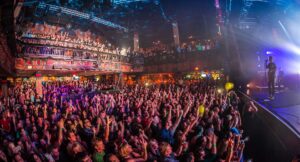 Concert Lineup for March
House of Blues Orlando (HOB) is one of Central Florida's most popular music venues. Here are the amazing acts scheduled to rock the HOB stage this March.
Dropkick Murphys
Just in time for St. Patrick's Day, Celtic punk band Dropkick Murphys are bringing their Irish sound to Central Florida.
The Boston band has released 12 full-length albums including their latest, 11 Short Stories of Pain & Glory. Dropkick Murphys will take the stage on March 3, 2023, at 7 p.m. and keep the House of Blues rocking all night long.
Eric Johnson's "Treasure" Tour
Eric Johnson is a world-renowned guitarist who was inducted into the Guitar Player Gallery of Greats for his platinum record, Ah Via Musicom. The album features his best-known song, the Grammy-winning "Cliffs of Dover." Johnson was also the first artist to score three Top 10 instrumental tracks.
Johnson is revisiting his signature album on his "Treasure" tour, playing it in its entirety for fans to enjoy. Catch Eric Johnson live at the HOB on March 17, 2023, at 8 p.m.
Our Last Night: The "Welcome Back" Tour
Our Last Night is an innovative hardcore and alternative metal band consisting of brothers Trevor and Matthew Wentworth alongside Timothy Molloy. In addition to original songs about hope and love in the face of depression, the band is known for putting a hardcore twist on hit pop songs. They've covered tunes such as Miley Cyrus' "Wrecking Ball" and Katy Perry's "Dark Horse."
Our Last Night stops in Orlando at 7:30 p.m. on March 31, 2023.
Book a Stay Near the HOB at Rosen Centre
When planning your spring concert getaway to Orlando, book a stay at Rosen Centre.
Our affordable, luxurious hotel is on International Drive near Orlando's most popular parks, restaurants, bars, and attractions.