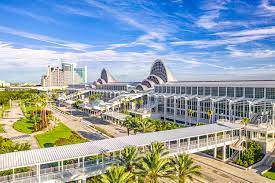 OCCC Events for November 2023 
Exciting events take place at Orlando's Orange County Convention Center every month. Here are some of the OCCC events scheduled for November 2022. 
Olympia Weekend 2023 
The popular bicoastal expo will be held in Orlando this year at the Orange County Convention Center. The event is a weekend-long affair happening November 3 and 4 and will feature an unforgettable battle of some of the world's best bodybuilders, all competing to be crowned Mr. and Ms. Olympia 2023. 
Discounted room blockings are available at both Rosen Centre and Rosen Plaza for this event. 
RoofCON 2023 
RoofCON helps roofing professionals develop their brands and networks. This year's event features impressive speakers. Bestselling author and radio talk show host Dr. Gary Chapman and Shark tank investor Kevin Harrington are sure to inspire. Don't miss RoofCON this Thursday, November 9, to Saturday, November 11, 2023. 
The Pizza Tomorrow Summit 
If you're big into the pizza world, the Pizza Tomorrow Summit is the place to be. Enjoy exciting exhibitors, engaging competitions, and extensive pizza programming. The event takes place from Wednesday, November 8 to Thursday November 9, 2023. 
IAAPA Expo 
No one knows attractions like the Orlando area, which makes it the perfect place to host one of the top events in the attractions industry. Learn about the innovations coming to theme parks, zoos, museums, and other attractions. Attend the International Association of Amusement Parks and Attractions Expo from Tuesday, November 14, to Friday, November 17, 2023. 
Villain Arts Presents Orlando Tattoo Arts 
With a jam-packed event schedule including best tattoo competitions, live entertainment from well-known names, and hundreds of vendors and artists, this convention is a haven for tattoo enthusiasts. 
See acts from America's Got Talent personalities Captain and Maybelle or catch a heavy metal magic show starring Nigel Blackstorm. The possibilities are endless at Orlando Tattoo Arts convention, happening from Friday, November 17 to Sunday, November 19, 2023. 
Eventful Days, Restful Nights 
Reserve a room at Rosen Centre for a luxurious and comfortable stay after a long day at OCCC. The hotel provides convenient access to the Orange County Convention Center. Our location on International Drive also puts you close to Orlando's top attractions, bars, and restaurants.