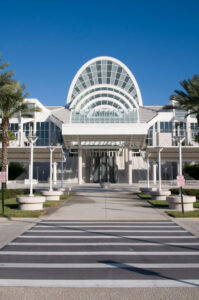 The Orange County Convention Center (OCCC) is bustling this spring. Here are some exciting events and expos you can catch in March 2023.
OCCC March Event and Expo Lineup
2023 Sunshine Volleyball Classic
The Sunshine Classic tournament includes 13 exciting divisions and dozens of teams competing for first place. The USA Volleyball action takes place March 3-5.
A room block at Rosen Centre is available for the competition.
The American Open Orlando Nationals
American Championship Events from Varsity Cheer will bring the country's most elite cheer squads together in Orlando. See them compete at the Orlando Nationals from March 4-5.
Commodity Classic 2023
The Commodity Classic unites agriculture experts for one weekend of farming education. The insightful event runs March 9-11, 2023.
Group housing at Rosen Centre is available for the Commodity Classic.
Do it Best Spring Market 2023
Do it Best is a leading home improvement buying cooperative. The organization helps members grow their building businesses. Their Spring Market will offer education sessions and an impressive market showcase from March 11-13.
Book your Spring Market stay at Rosen Centre through a room block.
doTerra Leadership Retreat 2023
doTerra is a household name for essential oils. From March 16-18, company leaders will meet at the Orange County Convention Center. They'll gain strategic direction, network, and showcase products at their Orlando Leadership Retreat.
Housing is available at Rosen Centre for the retreat.
Orlando Boat Show 2023
Central Florida's premier boating show returns to Orlando from March 17-19.
The public event will feature 19 dealers with more than 400 boats. Water sports fanatics can attend educational seminars to learn how to make the most of their time on the water. Twiggy the Water-Skiing Squirrel will make a special appearance.
AmeriCheer/AmeriDance InterNational Championship
The InterNational Championship is one of the biggest stages for cheer and dance teams. Teams from across the nation will compete for the big prize from March 18-19.
APEC 2023
The Applied Power Electronics Conference (APEC) lets power electronics professionals network and learn. This OCCC event features a variety of industry seminars and social events.
Global Pet Expo 2023
The Global Pet Expo is presented by the American Pet Products Association and the Pet Industry Distributors Association. The OCCC event features the latest products and hottest brands in the pet industry. Hundreds of new products will be on display for pet supply retailers to explore.
Book your OCCC hotel stay through an event room block at Rosen Centre.
Stay Close to the Action at Rosen Centre
When booking your Orlando trip, reserve a room at Rosen Centre. Our hotel is conveniently located on International Drive, over a covered walkway from the OCCC. Our affordable, but luxurious, hotel is near Orlando's top restaurants, bars, and attractions.