98Forty Tapas
& Tequila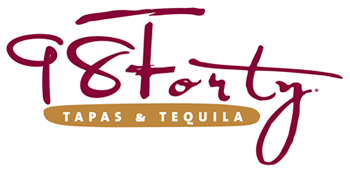 Experience forty premium tequilas and savor the freshness of our ceviches, salsas, fresh cut guacamoles, quesadillas, tacos and nachos – perfect for sharing.
Open daily at 5:00 p.m. – 10:00 p.m.
Salsa, Guacamole & Ceviche
Served with Tri-Color Corn Tortilla Chips seasoned with our blend of Salt and Spices
Tradicional Salsa
Tomato, Red Onion, Cilantro, Garlic, Lemon, Lime, Jalapeño
Roasted Corn & Black Bean Salsa
Sweet Onion, Roasted Garlic, Poblano Pepper, Tomato, Cilantro
Tradicional Fresh Cut Guacamole
Avocado, Tomato, Red Onion, Fresh Mint, Cilantro, Jalapeño
Pineapple Fresh Cut Guacamole
Avocado, Grilled Pineapple, Tomato, Red Onion, Fresh Mint, Cilantro, Jalapeño
Tradicional Ceviche
(contains tequila, raw seafood, and shellfish)
Mahi-mahi marinated with Meyer Lemons & Limes, Spanish Olives, Tomato, Red Onion, Cilantro & Jalapeño
Tradicional Tasting
Trio of the Tradicional Ceviche, Salsa & Guacamole
Quesadillas, Nachos & Tacos
Served as either Quesadillas made with flour tortillas, Nachos made with tri-color corn tortilla chips, or Mini Tacos made with soft white corn tortillas, shredded cabbage, ancho chile sauce, Oaxaca cheese, and queso fresco.
All items accompanied by pico de gallo, guacamole, and sour cream.
Carnitas
Slow-Roasted Pulled Pork served with Pineapple Salsa
(Grilled Pineapple, Red Onion, Roasted Jalapeño, Tomatoes)
Comino-rubbed Chicken
Three-citrus Marinade, Roasted Garlic, Jalapeño
Vegetariano
Roasted Zucchini, Yellow Squash, Red Onion, Tri-Color Peppers, Roasted Corn Black Bean Salsa
---
Parties of 8 or more subject to 18% gratuity
 
We are sensitive to our guests' dietary needs. Although we aren't an allergen-free facility, we'll make every effort to avoid cross-contamination of ingredients.
Please ask your server to speak with a chef concerning allergies or diets. We ask that anyone with food restrictions please use caution.
Consumption of raw or undercooked meats, poultry, seafood, or eggs may increase your risk of foodborne illness, especially if you have certain medical conditions.