"Cinco De Tello August Challenge
Winning Recipe

"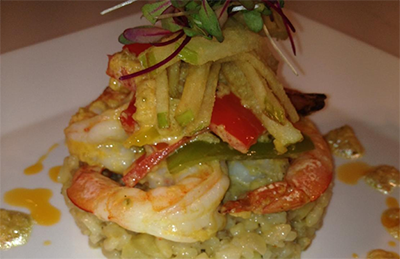 Sautéed shrimp with tri color peppers and tequila jalapeno sauce served over apple rissoto
2 oz garlic
16 ea lg shrimp peeled and deveined (16 20)
1 ea yellow pepper Julianne cut (strips)
1 ea red pepper Julianne cut (strips)
1 ea green pepper Julianne cut (strips)
1 table spoon chopped garlic
Directions:
Heat a saucepan over medium heat and add oil. Add shrimps sear on both sides about 1min each side. Remove from the pan and in the same pan, add peppers and garlic. Cook for about 2 min. put shrimps back in the pan. Season with salt & peeper and add 6 oz. tequila sauce (recipe below) and served over apple risotto (recipe below).
Apple risotto
---
Yields 2-4 Servings
1 green apple, cored and chopped
1/2 yellow onion, chopped
2 tablespoons butter
1 cup Arborio rice
1 1/2 cups white wine
2 ½ cups chicken
1/3 cup parmesan cheese
Salt and pepper to taste
Heat a saucepan over medium heat and add 1 tablespoon of butter. Add apples and onions with a pinch of salt, and saute until soft, about 8 minutes, stirring occasionally. Once soft, add the other tablespoon of butter, push the apples and onions to the side, and add rice. Toast rice for about 1 minute, then add wine. Cook over medium-low heat until rice absorbs wine, then add chicken stock about 1 cup at a time, following the same rule. Stir constantly, making sure nothing is sticking to the bottom. After all the liquid has been added, taste to see if rice is cooked enough for your liking. If not, add more and repeat the process.
Tequila Sauce
---
2 oz oil
1 yellow onions dice
1 whole tomato chop
2 Table spoons garlic cloves chop
3 Oz jalapeno pickles
1 cup water
1 cup cream
2 Table spoons brown sugar
2 oz patron tequila
Heat a saucepan over medium heat and add 2 oz. of oil. Add onions and sautéed for about 3 min. Add garlic, tom, jalapeños and cook for about 5 min. Add sugar, water and cream bring to boil and reduce heat. Cook for 10 min, turn off heat, add tequila, let it cool down, transfer to a blender and blend. Season with salt & pepper.