Vacations come and go in a flash. If you're spending that time here in Orlando, you won't want to waste a single day.
In the City Beautiful, there are endless activities to do. Proper planning can help fit everything you want to do in a short period of time. Instead of stuffing your next vacation with a hectic schedule, we suggest dedicating one activity to each day.
Below are our top four things to do in four days with your family this holiday season.
1. Dazzling Nights at Harry P. Leu Gardens
When people visit Florida during this time of year, they don't expect to walk into a "winter wonderland." However, just because the sunshine state doesn't experience the winter season the same way everywhere else does doesn't mean we don't still have fun with it.
Experience winter without the harsh temperatures during Dazzling Nights at Harry P. Leu Gardens. This family-friendly event occurs annually and transforms Orlando's lovely 50-acre gardens into an extravagant winter wonderland.
Dazzling Nights is filled with magical displays, shining forests, gorgeous sculptures, and great music. It will also feature a variety of immersive environments and a new, large-scale light show.
When you look above, expect to see hundreds of hanging Moroccan lanterns, and when you walk below, watch the interactive pads light up as you jump on them.
With laser-filled views, great music, a big tree covered in gold, and snow that won't freeze your fingers, Dazzling Nights is perfect for getting into the holiday spirit and makes for a memorable family experience. Join in on the fun from Nov. 17, 2023, until Jan. 6, 2024.
2. EPCOT® International Festival of the Holidays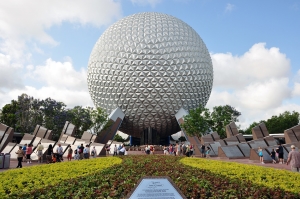 If you come here to visit Walt Disney World, make the experience an unforgettable one by attending EPCOT's International Festival of the Holidays.
Unlike Magic Kingdom and Hollywood Studios, EPCOT doesn't have a standard Christmas celebration. Instead, the park takes its culturally appreciative know-how and celebrates a variety of holidays from around the globe.
Throughout the park, you'll find the World Showcase and parts of Future World transformed into a culturally festive masterpiece. Dine on traditional international holiday foods, admire the décor, and enjoy a variety of themed entertainment.
EPCOT International Festival of the Holidays is included with regular admission to the park. So, if you're visiting Disney during the holiday season, you won't have to worry about paying for double the fun.
This seasonal event begins Nov. 24 and will run until Dec. 30, 2023.
3. Tour Lake Eola on a Swan Boat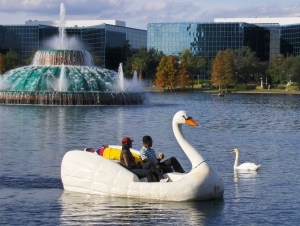 Cruise around Lake Eola in style this holiday season by renting a swan boat. Become one with Orlando's wildlife and get the most gorgeous view of the city skyline.
These swan boats are pedal powered and available on a first come, first served basis, so no reservations are required. There is also a handicap-accessible swan boat available with a wheelchair lift, so everybody can come along for the ride.
Find the swan boat dock on the west side of Lake Eola across from Relax Grill on North Rosalind Avenue. A $15 ticket gets you a 30-minute rental. Each swan boat fits up to five people, making it the perfect activity for families and friends.
Swan boat rentals operate Tuesdays through Sundays from 10 a.m. to 7 p.m. If you're coming on a Sunday, you can shop at the Orlando Farmers Market at Lake Eola before the ride.
4. Attend an Orlando Parking Lot Party
Do you like trying new, unique foods and having fun? If so, there's a party in town, and you're invited.
Every weekend, Parking Lot Party hosts events ranging from food truck rallies, trivia games, line events, and more around the city.
Some of the vendors you can expect to find at a parking lot party include Deli Fresh Threads, Hot Asian Buns, Sweet Fleet, Cholo Dogs, Black Magic Pizza, and more.
Parking Lot Party has a variety of hosts for its events, so each party is held somewhere different. Frequent spots are RockPit Brewing, Ivanhoe Park Brewing, Infusion Tea, and Wally's Bar and Liquors.
Orlando Parking Lot Party is family friendly and is a perfect entertainment spot for weekend vacationers looking for great eats and enjoyment all in one place.
Spend 4 Nights at Rosen Centre
The most important part about planning any vacation is having a place to come back to every night. Rosen Centre is the perfect home away from home with its abundant luxurious amenities, spa, and ample onsite restaurants.
When you choose to spend four days on vacation in Orlando, save money at Rosen Centre by booking your holiday stay with either of our four-night Pre-Thanksgiving or Black Friday packages. Our hotel is centrally located on International Drive near all of Orlando's prime entertainment. We're also near major highways like Interstate 4 and Florida's Turnpike to get you to all four of these activities in no time at all.