Rosen Centre®
Dog Policy
A Dog Friendly Hotel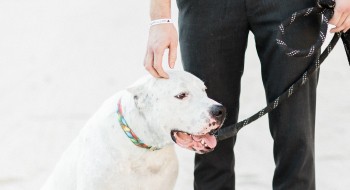 When you're enjoying beautiful sunny Orlando, don't leave your dog behind! At Rosen Centre®, we consider dogs to be part of the family which is why we are a dog friendly hotel. You can be sure that during your stay with us, your dog will enjoy the same relaxing accommodations as you do. Don't settle for subpar lodging because you've got your dog with you. Stay at the world-renowned Rosen Centre® and see how amazing a dog friendly hotel can be.
To keep your pet, you, and our other guests happy, safe, and comfortable, we ask that pet owners act responsibly and follow the guidelines listed below:
---
We welcome dogs that are current on vaccinations. Proof of vaccinations from a licensed veterinarian is required.
Maximum of one (1) dog per guestroom allowed.
Guests pay a one-time nonrefundable fee of $150, plus tax, per guestroom, for a pet's stay good for up to seven (7) nights. Thereafter, there is an additional fee of $50 per additional night. Service animals excluded. If paying cash, an additional $100 deposit, plus tax, is required. This $100 deposit is refundable after our staff has inspected the guestroom.
Guests are responsible for cleaning up after their dog on hotel property including grounds, so please immediately remove and dispose of any waste. An additional cleaning fee may apply if the dog creates an excessive mess.
Please place the special "Dog in Room" door hanger sign, provided at check in, on the outside of your guestroom door for the duration of your stay as a special recognition to celebrate your family dog's stay.
Properly supervise your dog at all times when on property. Keep your dog on a leash when outside of your guestroom or secured in a crate when left unattended in your guestroom.
The Hotel reserves the right to remove a dog from the premises when it displays signs of aggression, regardless of breed, type, size, weight, etc.
Please use the designated dog walk area outside of the hotel for dog relief and healthy exercise.
Your dog is restricted from the pool areas, restaurants, lounges, health club, spa, on any lobby furniture, or in meeting spaces. Service animals excluded.
Please dial ext. 88 to schedule housekeeping service between 8:30 a.m. to 4:00 p.m. Allow 30 minutes to an hour for service—time may vary. Safely crate or remove your dog from the guestroom during room cleaning service.
As a courtesy to all hotel guests, noise should respectfully be kept to a minimum. If your dog is making excessive noise, you will be contacted for compliance. Your dog needs rest just like you. We want you to enjoy your stay.
** If guests are unable to comply with the Rosen Centre® Dog Policy, other kennel and dog sitting services may be obtained through the lobby concierge for your dog's convenience.