Lounging around with a tasty craft beer in hand — is there anything more relaxing?
The team at Beer Spa thinks so. This unique Orlando attraction serves up frosty mugs of local brews to guests as they unwind in the spa's signature beer soak hot tubs. Here's what to expect when you soak in the suds.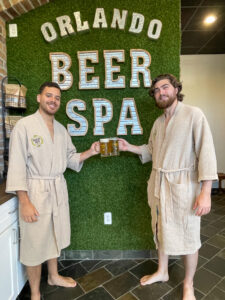 Beer Spa: Good for Whatever Ales You
Beer Spa's spacious hot tubs are filled with beer's main ingredients — water, hops, malt, and brewer's yeast.
The hot water relaxes tight muscles, while the other components help purify the skin, lock in moisture, and reduce stress.
Want a break from soaking? Your private room also contains an infrared sauna and haybale lounge area. The spa can accommodate groups of up to four people, with two people per tub.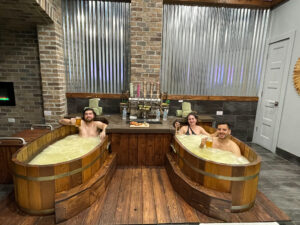 Beer spas are believed to have originated in the Czech Republic and are a common sight throughout central Europe. Until recently, beer spas were a largely untapped market in the U.S. This Beer Spa is the first of its kind in Florida.
An hour-long beer treatment for one costs $129. The per-person cost goes down if you book as a group, with a party of four in two tubs going for $299.
Raise a Glass to Relaxation
Admission to Beer Spa includes unlimited beer from self-service taps located right next to your tub.
On tap are various beers from local brewery Ivanhoe Park Brewing Company. Guests also receive a complimentary pretzel to snack upon. Wine is available for a fee.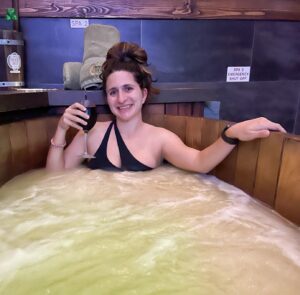 Keep Unwinding at Rosen Centre
After your one-of-a-kind Beer Spa treatment, keep the R & R going at Rosen Centre, located just up International Drive. From the serene décor in the guestrooms to the wide array of services available in our own spa, this Orlando hotel has everything you need to relax.
Beer lovers are also in luck — our restaurants, bars, and lounges serve a wide variety of brews, with something for everyone.
Be sure to try the Alligator Drool IPA, a pale ale brewed by Brew Hub just for Rosen Hotels & Resorts.