Relaxation. Thrilling water sports. Freshly caught seafood and juicy, tropical fruit served at beautiful shoreside restaurants.
These are just some of the many things the beach has to offer. Florida has the longest coastline in the lower 48 states and there are many great beaches near Orlando. So if you're looking to work a beach day into your Orlando trip, you've got plenty of options.
The Best Beaches near Orlando
We've rounded up seven of the best beaches within two hours of Orlando. Here's what you can expect to find along each one's shimmering shoreline.
Cocoa Beach – Closest Beach to Orlando
Cocoa Beach is located south of the Kennedy Space Center, in the heart of Florida's Space Coast. Its coastline is one of the best spots to watch rocket launches, but that's not all this beach town has to offer.
Compared to the other Atlantic beaches near Orlando, Cocoa Beach's waves tend to be calmer, making it perfect for beginning surfers.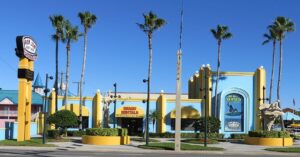 There are many surf schools in the area, one of which is housed in Ron Jon's flagship store, the biggest surf shop in the world. Who knows, you may become the next Kelly Slater — the pro surfer grew up in Cocoa Beach and got his start surfing there.
Hang out with the locals at the Cocoa Beach Pier. It is surrounded by shops and restaurants. At the end of the pier is Rikki Tiki Tavern, a prime spot for watching surfers and kiteboarders while enjoying an ice-cold drink.
Try Lori Wilson Park for a more laid-back visit. This beach is on I Dream of Jeannie Lane, named after another famous Cocoa Beach resident.
Ponce Inlet – An Experienced Surfer's Dream
Hit more challenging waves at Ponce Inlet, northeast of Orlando in Volusia County. The inlet boasts the most consistent waves in Florida and is popular among surfers looking to practice tricks.
If surfing is not your thing, then Ponce Inlet also features a wildlife rescue center that's open to the public. The inlet also has the tallest lighthouse in Florida. On the southern tip of Ponce Inlet, you can park your car right on the beach and hang out for the day.
When it's time to eat, there are plenty of waterfront restaurants right in town, or you can venture to Daytona or New Smyrna Beach for more dining options.
Anna Maria Island – A Serene Seaside Town
Located west of Bradenton on the Gulf Coast, Anna Maria Island is the furthest beach from Orlando on our list (clocking in at exactly 2 hours away). But its white sand beaches and aquamarine water will make the drive worth it.
The area is known for its dolphin, manatee, and sea turtle sightings, making Anna Maria Island perfect for animal lovers. Because the island's sand is made of quartz, it doesn't get too hot, so it's a great spot for a barefoot stroll.
Cortez, a historic fishing village, is located down the road, so the island and surrounding areas have plenty of great seafood options. If you plan on fishing, many of these dockside restaurants will cook your catch.
Anna Maria Island also boasts spectacular sunsets, so be sure to stick around until dusk for the grand finale.
Daytona Beach – A Classic Crowd-pleaser
Daytona is perhaps the best known of the beaches near Orlando. From its world-famous racetrack to its iconic pier, Daytona Beach truly has something for everyone.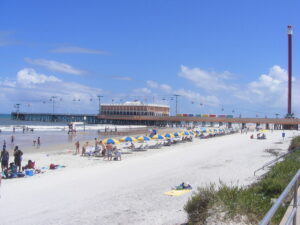 Like at Ponce Inlet, you can park along stretches of the beach and watch the waves roll in. Kids (and kids at heart) love the pier's amusement park and arcade, and adults have their choice of many beachfront bars.
Throw culture and learning into your beach day at the Museum of Arts & Sciences. It features a children's science center, a planetarium, art galleries, and Coca-Cola and NASCAR memorabilia.
More of a music person? Head to the Daytona Beach Bandshell, an outdoor venue that hosts professional cover bands all summer long.
Canaveral National Seashore – A Pristine Paradise
Here's a beach where you can truly unplug and unwind.
Canaveral National Seashore features 24 miles of shoreline nestled behind untouched dunes. It is the longest expanse of undeveloped land along Florida's east coast. Savor the soothing sounds of ocean waves and salty smell of the sea. There's no bustling beach town to distract you from the beach's beauty.
In many spots, there's no cell phone service. If you're looking to swim, keep in mind that there are no lifeguards on duty.
The park is also home to hiking trails and a lagoon perfect for kayaking. Also be sure to check the park's calendar for an exciting lineup of nature walks, wildlife talks, and unique events celebrating the sounds of nature.
The seashore is managed by the National Park Service. Admission is $20 per vehicle. If you want to go back later in your vacation, know that your pass is good for a week. If you have one of NPS' annual or lifetime passes, you and your passengers can get in for free.
St. Pete Beach – A Picturesque Place for Art Lovers
If you're looking for artistic inspiration, hop onto I-4 and head to St. Petersburg to take in the Salvador Dalí Museum and the Museum of Fine Arts St. Petersburg, plus Fairgrounds St. Pete, a one-of-a-kind, immersive art installation.
The bohemian neighborhood of Kenwood is a great place to explore local art galleries, many of which are housed in historic craftsman cottages.
Once you're done gallery hopping, head across the Boca Ciega Bay to check out St. Pete's greatest work of art: its beaches, with their white sands and peaceful emerald water.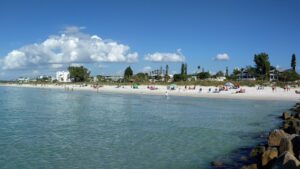 Lake Louisa Park – For Those About the Lake Life
If you're more of a lake person, you're in luck: Florida has over 30,000 of them!
One of the best lake beaches near Orlando is Lake Louisa State Park, about 30 miles west of the city in Clermont. The 4,500-acre park features fishing docks, 20 miles of hiking trails, and horseback tours.
There's also a peaceful beach with a playground and designated swimming area (although there are no lifeguards on duty). As you explore Lake Louisa State Park, be sure to look out for wildlife like deer, bobcats, opossums, gopher tortoises, and eagles.
Admission to Lake Louisa State Park costs $5 per vehicle.
Swim Back to Rosen Centre
After a day spent at one of the sun-kissed beaches near Orlando, head to Rosen Centre to rinse off the salt and sand.
Our location next to Orlando's major highways makes getting to the beach a breeze, and our serene guestrooms are the perfect place to rest after your shoreside adventure.