Vacation is a time to try new things, but there are moments when you simply need the comfort of daily traditions, such as teatime.
Whether you're looking for a classic cup or a caffeine-free herbal brew, January is the perfect time to sip up in Orlando. The weather's a little cooler, but not too cold, so you can enjoy it hot or iced. If you don't know which to choose, it may be helpful to know that January is Hot Tea Month.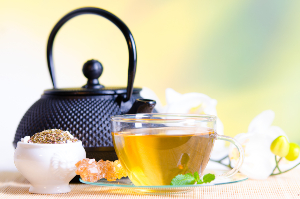 Even if teatime isn't part of your daily routine at home, make a special occasion of it while on vacation in Orlando.
The time spent sipping may offer an opportunity to reflect on your time off or your plans for the future. Best of all, Orlando is home to many diverse cultures known for great tea. As a result, there's truly a spot for everyone in the City Beautiful.
1.      The Tea Room Experience
420 E. Church St., Orlando, FL 32801
Let's start with Orlando's style of traditional tea with a modern, Floridian twist.
The Tea Room Experience is a cozy place filled with fanciful brews and charming cups and saucers. This downtown Orlando venue offers many loose-leaf delights, all curated by a certified sommelier. You can also enjoy light bites, including finger sandwiches and freshly baked scones.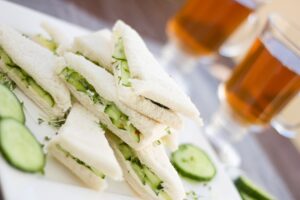 The Tea Room Experience is open from Thursday through Sunday and has three seatings per day.
Reservations are required. Admission costs $38 per adult and $25 for children ages 5-10. Children 4 and under will not be admitted.
In addition to these afternoon events, the dining room hosts themed parties throughout the year. If you're in Orlando for a special occasion, you can also book a private party.
2.      Infusion Tea
1600 Edgewater Dr., Orlando, FL 32804
Vegetarians and tea lovers will delight in Infusion Tea, a quaint spot in the hip College Park neighborhood.
The food menu features classic afternoon tea fare like cucumber sandwiches, plus options like tacos and flatbreads. Everything is vegetarian, and most items can be made vegan or gluten free for no extra charge.
All of the popular and rare teas here are brewed from whole leaves to impart the full oils and aroma of your beverage.
Enlighten your senses with options like Pineapple Bliss, a Japanese green blend infused with pineapple, papaya, and blue cornflower. Or try Weekend in Provénce, a rooibos with lavender, rose, and elderberry — a customer and employee favorite.
Speaking of the employees and this employer, the drink menu reflects the owner's belief in giving back. Orlando native Christina Cowherd started the business in 2004 after serving in the Peace Corps. She stocks the store only with ethically sourced and conscientiously grown brands.
A part of all profits goes to Faith Project International. This nonprofit builds stoves and improves the health of the Maya in Guatemala.
3.      Corner Rose Tea Room
5901 S. Orange Ave., Orlando, FL 32809
Like Infusion, the Pine Castle Woman's Club has brewed up a business that supports a worthy cause: the Corner Rose Tea Room.
To get to the Corner Rose, you'll pass through an expertly landscaped courtyard. Then, you'll take your seat in a cozy room impeccably decorated with delicate lace tablecloths and fine china. The Corner Rose is open on Thursdays and most Saturdays from October through June. If you want to share the joy of tea with loved ones, you can also book the space for private events.
The menu changes often, but generally includes freshly brewed black tea, scones, soup, sandwiches, and dessert.
With advance notice, the Pine Castle Woman's Club can accommodate vegetarian and gluten-free diets.
Admission starts at $30. Proceeds go to local charities like the Russell Home, which works with disabled children.
4.      ROYALTEA US
714 N. Mills Ave., Orlando, FL 32803
This popular Chinese franchise opened its first U.S. location on the outskirts of Orlando's Little Saigon neighborhood.
ROYALTEA believes that freshness is the key ingredient to a quality product. Each order is brewed freshly, so expect to wait 5 to 10 minutes, depending on the volume of customers.
ROYALTEA specializes in Asian teas, with a menu that reflects the company's Chinese roots. Many of the options are infused with fresh, seasonal fruits. Their signature drink is the cheese mousse tea. Another favorite is the royal bubble variety.
Matcha lovers will delight in the restaurant's Uji matcha options, including house-made desserts such as the crème brulée.
5.      KrungThep Tea Time
1051 W. Fairbanks Ave., Winter Park, FL 32789
As the name suggests, this Winter Park restaurant has a heavy Thai influence. KrungThep is an alternative name for the Thai capital city, Bangkok.
The KrungThep staff takes its time to brew you a fresh cup (or pot), which you can order hot or cold. Enjoy award-winning selections such as hibiscus, lychee peach, passion fruit jasmine, and white coconut crème.
You'll also find sandwiches and salads inspired by classic Thai cuisine like green curry, tomyum goong, pa-nang, larb, and satay satay.
Last, but definitely not least, KrungThep features a fanciful dessert menu that begs for a second serving of your favorite brew.
6.      Teatime at American Girl
8001 S. Orange Blossom Trail, Orlando, FL 32809
Afternoon tea is a chance to slow down and spend time with loved ones. So, it's natural that kids will want to share the experience with their beloved dolls.
The in the Florida Mall has a full-service bistro. On Fridays, Saturdays, and Sundays at 3 p.m., the bistro hosts Orlando's most adorable teatime. Each table features tiny chairs and place settings that are the perfect size for an American Girl doll. The event also includes fun arts and crafts.
The experience costs $40 per person and comes with a spread of finger sandwiches, sweets, and hot drinks.
Of course, the American Girl Store offers more than tasty treats. Take your dolls on a shopping spree and enjoy seasonal activities around the store. Or book an appointment at a salon that caters to both girls and dolls.
7.      Pom Pom's Teahouse & Sandwicheria
67 N. Bumby Ave., Orlando, FL 32803
In Orlando's offbeat Milk District, you'll find an equally offbeat restaurant.
Pom Pom's Teahouse & Sandwicheria serves up a unique selection of brews from all over the world. Whether you're in the mood for Darjeeling, sencha, Arabian mint, or Earl grey, this Orlando eatery has you covered. As the name suggests, Pom Pom's also serves a massive menu of massive sandwiches. Many feature unique ingredients like mashed potatoes, spicy peanut butter, and even spaghetti.
While you wait for your order, walk around the restaurant and enjoy the quirky local art that hangs on Pom Pom's walls.
Bonus Suggestion: The Tea Caddy at EPCOT
Epcot Center Dr., Orlando, FL 32836
If you're visiting Walt Disney World, be sure to stop by The Tea Caddy.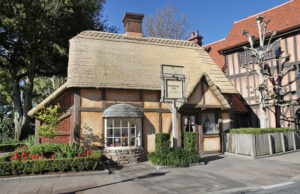 You'll find this gift shop in the U.K. Pavilion at EPCOT's World Showcase. As you might guess, the store specializes in British brews, including a vast selection of Twinings products. Buy a box of your favorite flavor or make a sampler box with 10 varieties of your choice.
But that's not all you'll find in this picturesque store.
They also sell English sweets that pair perfectly with a fresh brew. Because Twinings has sold their products to the royal family since the 1800s, the store is allowed to sell official royal merch. And, of course, the store carries souvenirs featuring Disney's most famous tea lover, the Mad Hatter.
Brew Up an Amazing Orlando Vacation at Rosen Centre
Exploring Orlando's tea rooms is a terrific way to see more of the city. But sometimes, a steaming beverage is best served with a side of solitude.
Luckily, when you stay at Rosen Centre, you can enjoy a delicious brew in your guestroom.
Our hotel amenities include in-room coffee makers that can brew hot water in no time, making it easy to enjoy your favorite beverage. The assortment of treats in Red's Deli, our on-site minimarket, will pair perfectly with your drink of choice. And our low rates will leave you with a bigger budget when the time comes to sip your way around Orlando.