An Orlando vacation is, of course, the perfect way to escape from everyday life. But for the other 51 weeks of the year, there are books. Literature allows us to explore exciting worlds, different eras, and new points of view without leaving the couch.
Book Lovers Day is coming up on August 9.
On this day, bibliophiles everywhere read books, buy books, and talk about books. If you're in Orlando for Book Lovers Day 2022, you'll find many ways to celebrate, from learning about local writers to visiting your favorite fictional places. Here are five ways to observe Book Lovers Day in Orlando.
Explore Literary Worlds at Universal Orlando Resort
For a truly immersive Book Lovers Day, head to Universal Orlando Resort.
Oh, the places you'll go when you step into Seuss Landing! This Islands of Adventure world transports you into classic Dr. Seuss titles like The Cat in the Hat and One Fish, Two Fish, Red Fish, Blue Fish. Be sure to stop by All the Books You Can Read to pick up copies of your favorite Dr. Seuss titles.
Riding the High in the Sky Seuss Trolley Train Ride, you'll notice that there are no straight lines in this part of the park. This is a nod to Dr. Seuss's whimsical style of drawing. Even the trees in Seuss Landing are crooked!
Universal is, of course, also a Potterhead's dream.
The Wizarding World of Harry Potter spans Universal Studios Florida and Islands of Adventure. If you buy a Park-to-Park ticket, you can ride the Hogwarts Express train between the two. The award-winning ride Harry Potter and the Forbidden Journey is a must-do on Book Lovers Day. You can also buy a cape and wand, watch magical shows, and enjoy an icy glass of sweet butterbeer.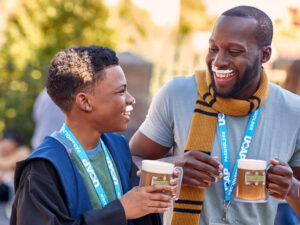 Whether you're a superfan or have never read the books, you'll love The Wizarding World of Harry Potter's great attractions and attention to detail.
Honor Eatonville's Most Famous Resident
Famed author and anthropologist Zora Neale Hurston grew up in Eatonville, Florida, just north of Orlando.
Hurston's writing career took off after she moved to New York City during the Harlem Renaissance, but Eatonville played a huge part in her work. Her best-known book, Their Eyes Were Watching God, is set in the town. She also wrote essays that fondly looked back on her Eatonville childhood.
When Eatonville was founded in 1887, it was the first self-governing, all-Black town in Florida.
Given Eatonville's rich history, it's no surprise that the town has great museums. The Zora Neale Hurston National Museum focuses on visual art but also sells books by its namesake.
Down the road, you'll find the Moseley House. It is one of the oldest buildings in town and was once owned by Hurston's best friend. Today, it is a museum that features many of Hurston's belongings.
For a deep dive into Hurston's life in Eatonville, book a tour with the Association to Preserve the Eatonville Community.
Swing by the Kerouac House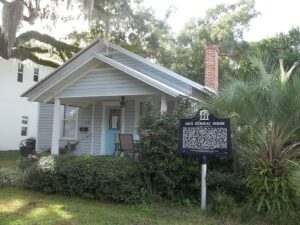 While Jack Kerouac lived all around the U.S., the Beat Generation writer spent one of the most eventful years of his life in Orlando.
Kerouac and his mother moved to Orlando's College Park neighborhood in 1957. The two lived in a tiny apartment in the back of a bungalow, down the road from Jack's older sister. Kerouac had already published one novel, Town and the City, but it was not selling well.
On the Road, Kerouac's second novel, was released while he was living in College Park.
The book was an overnight success. With publishers eager for more, Kerouac set up his typewriter on the Orlando house's back porch. He churned out his third book, Dharma Bums, in 11 days.
Kerouac and his mother left Orlando in 1958, and over the next few decades, the house fell into disrepair.
In the late 1990s, a group of local writers and booksellers raised money to fix up the house. In 2000, the Kerouac House opened as a writer's retreat. The house is also on the National Register of Historic Places.
Visitors are typically only allowed inside during events, but you can reach out to the Kerouac house to schedule a tour or explore outside the house at any time.
Shop 'til You Drop at an Orlando Bookstore
Every day is Book Lovers Day if you have enough books to read.
There are many bookstores in Orlando. There's a Barnes & Noble on Sand Lake Road, close to the theme parks. If you're planning an all-out shopping spree, consider visiting their other Orlando location, a massive two-story building in the Milk District.
You can also find used books and indie shops in the area.
Writer's Block Bookstore is a small business with Winter Park and Winter Garden locations. While Park Ave CDs is best known as a record store, it's also great for music memoirs, graphic novels, and books about Florida. Joybird sells titles by local authors alongside hard-to-find used books.
There is also a used bookstore at the Orlando Public Library; proceeds support the local library system.
Read in Luxury at Rosen Centre
If you're spending Book Lovers Day in Orlando, Rosen Centre has everything you need to make your holiday one for the books.
Spend the day reading beside a sparkling Olympic-size swimming pool. Pair a great story with a great cocktail while sitting at Sam & Bubbe's™ lobby bar. Or end the day by losing yourself in a book, the reading lights built into your headboard guiding your journey to a new world.