Banshoo
Sushi Bar

Banshoo – meaning "sunset" in Japanese–offers guests of the Rosen Centre® Hotel a creative selection of specialty sushi rolls, fresh sashimi and inventive signature seafood dishes as well as distinct cocktails, wines and sake in a casual atmosphere. Not to be missed are the Banshoo Signature roll with a blend of lobster, crab and scallops topped with tuna and salmon as colorful as the Florida sunset and the ever popular Haro Surf and Turf Signature roll that offers a hearty combination of lobster and seared sirloin. Chef Yoshi's specialty seafood dishes include a citrus infused Japanese-style ceviche with the Banshoo Ceviche Usuzukuri made of thin slices of tuna, white fish, fresh salmon and octopus with a lime ponzu sauce and the Alaskan Cucumber Boat filled with spicy scallops and lump crab. Banshoo is sure to please if you are looking for a place to unwind after a long day of meetings or sightseeing. Enjoy a refreshing cocktail such as the Banshoo Sunset Punch or the Asian Mojito and have a pre-dinner bite or light dinner at our Orlando Sushi Bar.
Chef Yoshi Kohazame, trained in Okinawa Japan and with more than 20 years of experience as a Sushi Chef, is the creative force behind Banshoo's unique culinary specialties.
Hours of Operation: 5:00 p.m. – 10:00 p.m.
Chef Yoshi Kohazame
---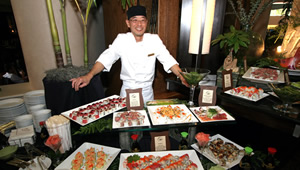 As a young boy in Okinawa, Japan, Yoshi Kohazame spent many an evening gathered with family and friends, watching the bright orange sun setting into the crystal blue waters off the coast of his island home. Today, it is only fitting that the restaurant he helped develop, Banshoo, should be named sunset in Japanese. Here, Chef Yoshi's 20 years of experience, cooking and creating sushi in some of Orlando's finest Japanese restaurants, is rolled into every bite. With a passion for seafood, an unwavering commitment to fresh, quality ingredients and a gift for artistic presentation, Chef Yoshi has created an intimate dining experience for family and friends, and a diverse menu of appetizer-sized rolls and specialty dishes worthy of the name Banshoo.
Testimonials
---
Yoshi and fellow chefs put out a beautiful spread of nigirizushi, sashimi and norimaki. And everything I sampled was delicious. Can't wait to go back and enjoy a more leisurely dinner.
Scott Joseph, www.scottjosephorlando.com
It was a fascinating trip. Rice at Banshoo is a masterpiece, each grain firm and separate, yet sticky enough to stay together. (Chef) Kohazame's skills have been honed through 20 years in America … they are as sharp as the sword-steel knife he uses.
Joseph Hayes, Dining Editor, Orlando Magazine
Dining Menu
---
All rolls are accompanied by a seaweed salad
*Horizon Roll $10
Spicy tuna tartar topped with tobiko
Nesors Go Green Garden Roll $10
Assorted garden vegetables, cucumbers, asparagus, avocado, and carrots, wrapped in soy paper
* **Tempura Shrimp Roll $12
Tempura shrimp with jalapeños and avocado. Topped with eel sauce, spicy mayo and Sriracha sauce. Garnished with sesame seeds
California Sunset $11
Lump crab salad, with avocado and cucumber with tobiko
Crazy About Salmon $12
Smoked salmon, cucumber and cream cheese topped with tobiko
Eel Roll $12
Eel with cucumber topped with eel sauce and sesame seeds
Yoshi Special $18
½ Florida Sunset Roll, ½ California Sunset Roll & 1 piece each Nigiri
Tuna | Salmon | Yellowtail | Eel
Florida Sunset $11
Tuna, salmon, asparagus and artichoke hearts
Banshoo $14
Blend of lobster, lump crab and sea scallops in a creamy mayo sauce topped with tuna, fresh salmon, sliced avocado and red tobiko roe
---
Sushi & Sashimi
2 pieces per order
Tuna (Maguro)
Fresh Salmon (Sake)
Yellowtail (Hamachi)
Fresh Water BBQ Eel (Unagi) **
---
* Spicy Roll
** Cooked Items
Please note not all ingredients are listed. Inform your server of any food allergies. Consumption of raw or undercooked meats, poultry, seafood, shellfish or eggs may increase your risk of foodborne illness – especially if you have certain medical conditions.