Harry's Poolside
Bar & Grill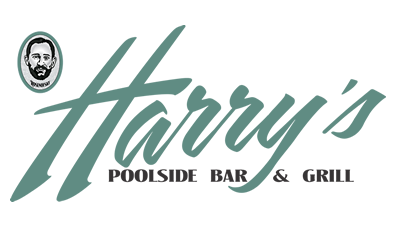 Your day in sunny paradise doesn't have to end when it's time to eat. We brought the bright Florida sun and the warm crystal waters inside at Harry's Poolside Bar & Grill. With our sparkling blue atmosphere and our Caribbean-Cuban infused cuisine, you can escape to a tropical paradise while enjoying exotic food and drink. Get ready to relax in our chic contemporary indoor seating or sit back al fresco in the Orlando sunshine on our patio. Both offer soul-inspiring views of Rosen Centre®'s scenic outdoor pool deck lined with palm trees waving in the breeze.
Harry's is the destination for a relaxed, kicked back dining vacation to please all of your senses. Start your adventure off with a Zested Mojito or Cayman Cosmo, two of many cool island inspired drinks. Then tickle your palette with one of Chef Tello's hand-crafted dishes, which combine the freshest ingredients and most creative blends of spices into inventive and mouthwatering recipes. The Conch Fritters, Coconut Shrimp, Ropa Vieja and Mahi Mahi Wrapped in Banana Leaf never disappoint. Finish up with a trip to the sweet side as you dip your spoon into our Tres Leches Martini or dive into our Chocolate Cinnamon Bread Pudding.
At Harry's, you'll not only satisfy your appetite for good food, you'll enjoy every minute of it. Conveniently located at the Rosen Centre® on International Drive, Harry's Poolside is ready to delight and we guarantee that the rhythms of the tropics are never far away!
Hours of Operation
---
Morning Service: 7:00 a.m. – 10:00 a.m.
Lunch Service: 11:00 a.m. – 2:30 p.m.
Dinner Service: 5:00 p.m. – 10:00 p.m.
All Day Pool Menu: 11:00 a.m. – 11:00 p.m.