Chef Fred Vlachos, Head Chef,
Everglades Restaurant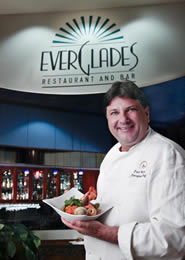 Chef Fred Vlachos has been the Head Chef of the Everglades Restaurant since 2006. Classically trained at Johnson & Wales Culinary School in Rhode Island, he has built his nearly 30-year culinary career at fine restaurants and hotels throughout the Orlando area, including the Walt Disney World Swan & Dolphin.
While the Everglades Restaurant is unmistakably Florida themed, Chef Vlachos ensures that the menu is never stagnant or predictable by infusing a variety of other cuisines and influences. For instance, his fresh Florida grouper takes on a southern flair when served with smoked tomato and cheddar grits topped with citrus saffron sauce and garnished with pickled Bermuda onions.
With the Everglades popular Vine & Dine wine pairing dinner series now in its fourth year, Vlachos is constantly challenged to create unique and imaginative menus with seasonal and holiday themes such as campfire food, "running of the bulls," aphrodisiacs, Mardi Gras, and many more. With each theme, he incorporates global culinary influences such as French, Spanish and Mexican, or adds an upscale twist to classic American fare to outdo himself time and time again. For example, inspired by Elvis' favorite snack, peanut butter and banana sandwiches, he created an upscale Mille-Feuille, or Napoleon pastry, for the rock 'n' roll themed Vine & Dine.
The chef's everyday menu is no less inventive. His Alligator Bay Chowder is a menu staple thanks to the many out-of-state visitors who can't find anything like it elsewhere, while his wild game entrees like the venison steak with a port-wine sauce and tenderloin of buffalo with ragout of wild mushrooms are among the Everglades' most requested items by locals and visitors alike. Vlachos also prides himself on offering only the freshest seafood, thanks to daily suppliers of native Florida fish, such as swordfish, which he grills to perfection and serves with rosemary aioli and arugula in lemon and extra virgin olive oil. His "mix and match" kitchen experiments are almost always an instant success, such as his vegetarian potato gnocchi with tomato sage sauce, asparagus, wild mushrooms and cashew cream. On a slow evening in the restaurant, Chef Vlachos has even been known to create a custom menu for guests–an unexpected and delightful surprise that keeps loyal patrons coming back year after year.