Chef Tony Novoa,
Chef Garde Manger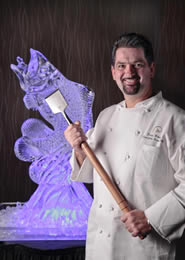 Chef Tony Novoa takes the term "culinary arts" quite seriously. As the resident garde manger at Rosen Centre® for the last six years, Novoa turns ordinary fruits, vegetables, cheeses, and other carvable foods into mini-masterpieces to create splendid themed and holiday displays.
His talent for carving edible sculpture also extends to ice, and his skills are put to good use for Rosen Centre®'s many conventions and meetings groups as well as special events such as weddings and parties. While carving elaborate sculptures with chisels and chain saws is often above and beyond what the occasion calls for, Novoa considers the chilly task a natural fit into his overall duty to add decorative touches and flare to complement the cuisine.
An award-winning artist, sculptor and ceramics maker in his school days, Novoa found that working with food was a natural extension. A self-taught chef, he learned his culinary skills by watching and assisting others. Prior to joining Rosen Centre®, he spent several years traveling and opening Rainforest Café restaurants, lending his creative expertise to constructing animals and their habitats from ice and food. While at Rosen Centre®, he has carved an exact replica of the elaborate 100-gallon fish tank at the Everglades Restaurant from an assortment cheeses. Among his most requested ice sculptures are vases of flowers or giant "fish bowls" on pedestals used to serve (and chill) fresh shrimp. So far, he has never been stumped when asked to create an edible specialty.
Chef Tony in action creating our Easter Ice Sculpture
---
Samples of some of Chef Tony's creations
---