Sam &
Bubbe's™
From Our Family to Yours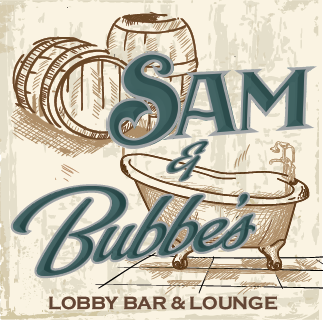 We are proud of our tradition of acknowledging our family history by naming many of our food and beverage offerings at Rosen Centre® after fond memories and relatives. It is with this in mind that we are proud to introduce Sam & Bubbe's™ in honor of our founder, Harris Rosen's maternal grandparents, Sam and Rose "Bubbe" Rosenhaus. Bubbe is Yiddish for grandma.
We like to think that the good food and hospitality you enjoy here is not far removed from that of Bubbe's own kitchen and reputation. A native of Austria/Hungary, Bubbe had a reputation for being both a fabulous cook and hostess, and she made all of her dishes from scratch. Our menu, featuring specialty drinks and traditional Jewish noshes, is truly Bubbe-inspired. Interestingly enough, in the days of the Great Depression, Bubbe herself made potato vodka in the family bathtub to help make ends meet. Her combined talents are showcased once again nearly a century removed.
The Rosenhaus family lived in an area of New York City's Lower East Side that was home to iconic landmarks such as the famous Fulton Fish Market and the bustling Essex Street Market. According to Harris, family dinners were sumptuous feasts and the sounds of Hungarian, German and Yiddish filled the air, particularly on Friday evenings.
Sam owned a barrel-making business, but he liked to tell people that he was also in the "oil" business. He would literally scrape the bottoms of barrels once used by Standard Oil of New Jersey and sell what he managed to salvage. It was Sam who once told his 10-year-old grandson, Harris, that he too had a special "gene." While the boy thought he meant "jean," as in blue jeans, he later came to realize that his grandfather was referring to an "entrepreneurial gene," and that one day he would go into business for himself, just like his grandpa, which is of course what Harris ultimately did. Thanks to this rich history and the "gene," you can enjoy a taste of Bubbe's favorite noshes.
Signature Cocktails
Hester Street Olde Fashioned
Horse Soldier Bourbon, Amaro Nonino Quintessentia, Simple Syrup, and Orange Bitters
Blackberry Mojito Shine
Ole Smoky Blackberry Moonshine, Bacardi Silver, and Blackberry Puree
Basil 8
Muddled Grapes, Basil, and Simple Syrup, shaken with New Amsterdam Gin and topped with Ginger Ale
Ginga Fizz
New Amsterdam Gin and Domaine de Canton Ginger Liqueur with VSOP, topped with Ginger Beer.
Jalisco Buck
Cenote Blanco Tequila, Triple Sec, Agave Nectar, and Lime and Pineapple Juices, served in a Python Salt-rimmed Glass
Pie Apple Hooch
A blend of Ole Smoky Apple Pie Moonshine, Apple Pucker Liqueur, Lemonade, and Pineapple Juices
Citrus Cranberry Collins
Stolichnaya Vodka, Triple Sec, Lime Juice, and Cranberry Cocktail
Chocolate Espresso Martini
Espresso, Stolichnaya Vanilla Vodka, Kahlúa, and Godiva Chocolate Liqueur
Premium Spirits
Rum
Flor de Caña 10-yr Aged Dark
Myers's Dark
Bacardi
Plantation Dbl. Aged
Malibu
Appleton Reserve 18 yr
Scotch
Bowmore 12yr/15yr
Chivas
Dewars
Dalmore 12yr/15yr
Glenlivet 12yr/15yr
Glenmorangie 18yr
JW Black
JW Blue
Lagavulin 16yr
Laphroaig 10yr
Oban
Macallan 12yr/15yr/18yr
Tobermory 12yr
Glenfiddich 12yr
Glenmor
Quinta Ruban 12yr
Glenmorangie Lasanta 12yr
Whiskey
Crown Royal
Bulleit
PiggyBack
Jameson
Fireball
Basil Hayden Dark
Whistle Pig
Jameson Caskmates IPA
Gin
Hendrick's
Bombay Sapphire
Monkey 47
Tanqueray
Vodka
Absolut
Grey Goose
Ketel One
Stoli
Tito's
Skyy
44° North Nectarine
Tequila
Avión
Casamigos Añejo/Blanco
Cenote
Cincoro
Dos Hombres Mezcal
Don Julio
Patrón
Komos Cristalino
Herradura
Titos
Skyy
44 North Nectarine
Bourbon
Woodford Reserve
Bulleit
Jack Daniel's
Maker's Mark
Amador Dbl Barrel Port/Cab
Angel's Envy
Baker's
Booker's
Horse Soldier Sm Batch
Knob Creek
Maker's Mark 46
Jim Beam
Beers and Seltzers
Draft Beer
Alligator Drool (IPA, Lager)
Brewed exclusively for Rosen Hotels and Resorts
Cigar City Jai Alai IPA | Tampa, FL
Blue Moon Belgian White | Denver, CO
JDub's Bell Cow Milk Chocolate Porter | Sarasota, FL
Oyster City Mangrove Pale Ale 8.2% ABV | Apalachicola, FL
Samuel Adams Boston Lager | Boston, MA
Michelob Ultra | St. Louis, MO
Sierra Nevada Little Wild Thing Sour Ale | Chico, CA
3 Daughters Tropical Hefe | St. Pete, FL
Oyster City Hooter Brown Ale 8.5% ABV | Apalachicola, FL
Domestic & Import Beer
Budweiser
Bud Light
Coors Light
Miller Lite
Corona
Heineken
Modelo Especial
Michelob Ultra
Stella Artois
Guinness
Oyster City Hibiscus
O'Doul's non-alcoholic
Seltzers & Ciders
Angry Orchard Cider
Budweiser Seltzer
Magners Irish Cider
Woodchuck Amber Cider Draft
Make it a Bucket
Mix and Match 5 cans of Bud, Bud Light, Mich Ultra, Stella, or Bud Seltzer
Wines and Champagne
White Zinfandel | Rosé
Minuty M Rosé | Provence, FR
Dry with aromas of candied orange peel and red currants
Stone Cellars White Zinfandel | California
Fruit characters of strawberry, peach, and raspberry
Sparkling
La Marca Prosecco | Italy
Aromas of citrus, honey, and white flowers
Maison De Grand Esprit Crémant | Burgundy, FR
Notes of white nectarine and toasted almonds and a sense of minerality
Whites
Cavaliere d'Oro Pinot Grigio | Valdadige, Italy
Sweet aroma alongside the fresh Meyer lemon and ripe tropical fruits
Matua Sauvignon Blanc | Marlborough, NZ
Fresh and vibrant with concentrated blackcurrant leaf and a hint of nettle and green melon
La Crema Chardonnay | Sonoma Coast, CA
Aromas of Meyer lemon, nectarine, and jasmine, followed by flavors of green apple, tangerine, and yellow plum
Reds | Red Blends
Lyric by Etude Pinot Noir | Santa Barbara, CA
Aromas of Bing cherry and raspberry with hints of kola nut, plus sweet, spiced notes of cinnamon, clove, and allspice courtesy of a beautiful oak integration
Katherine Goldschmidt Cab Sauvignon | Sonoma County, CA
Opulent, floral aromas of black cherry, plum, and blackberry with some licorice texture
Sterling Napa Merlot | Napa Valley, CA
Aromas of blackberry fruit, plum, and ripe black cherry
Alexander Valley Red Blend | Sonoma County, CA
Aromas of black cherry, spice, plum, cassis, blueberry, oak, and vanilla
Beringer Knights Cab Sauvignon | Sonoma County, CA
Aromas of dried herbs, lavender, fresh boysenberry, and lanolin with flavors of dark fruit led by figs, black cherry, and currants
Stag's Leap Petit Shiraz | Napa Valley, CA
On the palate, Juicy flavors of creamy cassis, macerated blackberry, cherry kirsch, black licorice, and peppery plum with a rich, saturated mouthfeel
Maison de Grand Esprit Bourdeaux Blend | France
The Succulent notes of black currant and blackberry, are infused with warm, gentle spice
Beringer Quantum Red Blend | Napa Valley, CA
Black cherry, prune, and mulberry aromas with dark cherry, blackcurrant, plum, chocolate, and balsamic notes
Dining
Starters
Barbados Wings
Reef-style Caribbean Wings, Jamaican Pickapeppa® Garlic-lime Sauce
Key West Conch Fritters
Duval Street Habanero Chile
Island Coconut Shrimp
Gulf Shrimp with Orange Chile Sauce
Cayman Islands Calamari
Panko Calamari with Cayman Aioli
St. Kitts Fish Dip
Smoked Freshwater Rainbow Trout with Cream Cheese, Sour Cream, Fresh Horseradish, and a Mixture of House Spices, Served with Crispy Roti Bread and Fried Tostones
Entrée Salads
Served with Mojo Tostones
Harry's Dinner Salad
Baby Greens, Mixed Fresh Berries, Olive Oil, Balsamic Vinaigrette
Add Jerk Chicken / BBQ Glazed Shrimp Pinchos / Pan-seared Salmon
Burgers
Served on a Sweet Island Bun with choice of Mojo Yucca Fries, Sweet Potato Fries, or Side Salad
Jamaican Jerk Turkey Burger
Jerk Turkey, Grilled Pineapple, Yellow Beefsteak Tomato, Sweet Red Onion, Orange Chile Sauce, Cayman Aioli
Harry's Burger
Fresh Angus Burger, Pickapeppa® Slaw, Grilled Onions, and Yellow Beefsteak Tomato
Sandwiches
Served with choice of Mojo Yucca Fries, Sweet Potato Fries, or Side Salad
Mojo Chicken
Mojo Marinated Chicken, Yellow Beefsteak Tomatoes, Avocado, Sweet Pepper Relish Served on a Sweet Island Bun
Tripleta
Roasted Pork, Smoked Ham, Shaved Steak, Swiss Cheese, Shoestring Potatoes, and Cayman Aioli
Served on Grilled Cuban Bread
Little Havana Sliders
Roasted Pork, Grilled Onions, Garlic
Served on Mini Sweet Island Buns
Turks Islands Chicken Sliders
Grilled Chicken Strips, Grilled Pineapple, Yellow Beefsteak Tomato, Sweet Red Onion, Cayman Aioli
Served on Mini Sweet Island Buns
Desserts
Flan de Queso
Caramel Sauce, Mixed Berries
Tres Leches Martini
Sponge Cake soaked in Three Kinds of Milk, Whipped Cream, Pistachios
El Diablo Chocolate Cake
Warm Chocolate Cake, Dulce de Leche Sauce, Vanilla Ice Cream