Sam &
Bubbe's™
From Our Family to Yours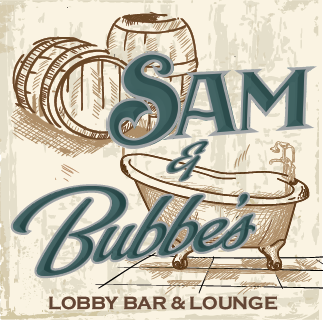 We are proud of our tradition of acknowledging our family history by naming many of our food and beverage offerings at Rosen Centre® after fond memories and relatives. It is with this in mind that we are proud to introduce Sam & Bubbe's™ in honor of our founder, Harris Rosen's maternal grandparents, Sam and Rose "Bubbe" Rosenhaus. Bubbe is Yiddish for grandma.
We like to think that the good food and hospitality you enjoy here is not far removed from that of Bubbe's own kitchen and reputation. A native of Austria/Hungary, Bubbe had a reputation for being both a fabulous cook and hostess, and she made all of her dishes from scratch. Our menu, featuring specialty drinks and traditional Jewish noshes, is truly Bubbe-inspired. Interestingly enough, in the days of the Great Depression, Bubbe herself made potato vodka in the family bathtub to help make ends meet. Her combined talents are showcased once again nearly a century removed.
The Rosenhaus family lived in an area of New York City's Lower East Side that was home to iconic landmarks such as the famous Fulton Fish Market and the bustling Essex Street Market. According to Harris, family dinners were sumptuous feasts and the sounds of Hungarian, German and Yiddish filled the air, particularly on Friday evenings.
Sam owned a barrel-making business, but he liked to tell people that he was also in the "oil" business. He would literally scrape the bottoms of barrels once used by Standard Oil of New Jersey and sell what he managed to salvage. It was Sam who once told his 10-year-old grandson, Harris, that he too had a special "gene." While the boy thought he meant "jean," as in blue jeans, he later came to realize that his grandfather was referring to an "entrepreneurial gene," and that one day he would go into business for himself, just like his grandpa, which is of course what Harris ultimately did. Thanks to this rich history and the "gene," you can enjoy a taste of Bubbe's favorite noshes.
Menu
---
Sam & Bubbe's™ New York Deli Noshes
All noshes served with marinated Olives and Jewish Pickles
Latke Stacks
Two of Rosen Centre®'s Award-winning Potato and Roasted Pepper Latkes Seasoned with Garlic and Cilantro, Stacked with Sour Cream and Applesauce
Sam & Bubbe's™ Mini Sandwiches
Smoked Salmon: Mini Sesame Bagel with Smoked Salmon, Cream Cheese, Red Onion and Arugula
Corned Beef: Two Mini Jewish Rye Rolls with Warm Corned Beef, Served with Swiss Cheese and Deli Mustard
Pastrami: Two Mini Pumpernickel Rolls with Pastrami served with Muenster Cheese & Deli Mustard
Reuben: Two Mini Open Reubens with Corned Beef, Sauerkraut and Swiss Cheese, Drizzled with Thousand Island Dressing
Bubbe's Combo Platter
One Smoked Salmon Bagel and One of Each Mini Sandwich
Pierogi
Pan-Seared Pierogi Filled with Potato, Onion and Smoked Cheddar Cheese, Served with Sour Cream and Fried Onion Stack
Israeli Couscous Tabbouleh and Hummus
Couscous, Tabbouleh and Tahini Hummus Served with Grilled Flat Breads and Matzo Crackers
Chicken Pâté Bruschetta
Grilled Crusty French Bread Topped with Chopped Chicken Liver Pâté, Red Onion and Kosher Pickles
Sweet Nosh
Cheese Blintz
Served with Marinated Strawberries and Apricot and Mango Compote

Consumption of raw or undercooked meats, poultry, seafood, shellfish or eggs may increase your risk of foodborne illness, especially if you have certain medical conditions.