While other kids were playing outside, Michael McMullen was in the kitchen with his mom while she cooked.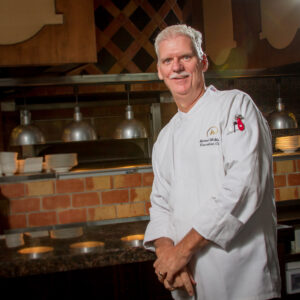 "As a young boy and the baby of the family, I was not allowed to play unsupervised outside with my three older siblings, so I would hang around with mom in the kitchen. I came to appreciate this time with her as I was able to see how recipes were prepared and cooked, as well as enjoy the best part for a young boy—tasting!" says Executive Chef Michael.
Aside from developing his palate at a young age, his mom taught him respect for food by wasting nothing.
Following recipes to their exact measurement to avoid waste fueled Executive Chef Michael's desire to cook with precision and perfection. Far later in life, another major influence and mentor, distinguished Executive Chef Rene Mettler, also taught Executive Chef Michael more about precision and passion.
"My success, in large part, is due to Chef Rene. He passed a couple of years ago. I think about him often … and miss him."
Rosen Hotels & Resorts Challenges Executive Chef McMullen
The day Executive Chef Michael joined Rosen Hotels and Resorts was the most challenging yet satisfying moment of his career so far.
"Our guests are varied, and they know and appreciate the Rosen value we provide. In one day, my staff can be steaming hot dogs for a children's group, creating made-from-scratch soups and sauces for our restaurants, and preparing a gourmet awards dinner for our more discerning business clientele." Guests can always expect Executive Chef Michael to make himself available to speak with directly about their special dietary concerns or requests, whether it be during holiday functions or just in a daily restaurant setting.
For Executive Chef Michael, a great dining experience starts with a dedicated team.
That means the dishwashers to the bartenders, the line cooks to the servers, and the leadership all have a shared goal to land a perfect 10 every time. As for what diners will experience on their plates, Executive Chef Michael strives for a unique experience. "I want to modernize the menus in a way that is acceptable for the masses but with a modern twist. I know not everyone is a gourmand, food enthusiast, or a lover of exotic ingredients (although we can certainly provide that). My goal though is for every guest to know the culinary team at Rosen Centre is dedicated to quality, fresh ingredients, and serving foods that our guests cannot, or will not, make or create at home. Their food experience at our hotel will bring them back to us time and time again."
Sometimes that extra pizzazz (a meal someone might not want to create at home) are insanely detailed themed events.
The most interesting menu he created for an event was based on a "laboratory" theme. "I provided many stations for the 2,000 guests that included Electro Magnetic Bulgogi Beef that had a 'Jacob's Ladder' crackling with electrical charges between two metal rods behind the station; King Crab, avocado, and cucumber salad served in glass beakers; a nacho station where guests pulled open a spigot that spewed warm cheese sauce; and a tropical fruit station that had an interactive 'Tesla coil.'"
The Secret Ingredients to Executive Chef Michael's Success
Executive Chef Michael is a certified member of the American Culinary Federation and has an extensive background in menu creation.
He received his culinary degree from Mid-Florida Technical Institute and completed an apprenticeship program through the American Culinary Federation and Five Diamond rated Hyatt Regency Grand Cypress in Orlando, Florida. Executive Chef Michael also has a bachelor's degree from the University of Cincinnati.
In the decades that Executive Chef Michael has been with the Rosen Hotels & Resorts family, his success has been greatly attributed to his ability to bring people together and work as a team toward a common goal.
You can also see his teamwork in action when he participates in company-sponsored Habitat for Humanity group builds. Outside of volunteering and work life, you're most likely to find him out on the open waters on his boat or spending time with his family.
You would think a kid taste tester who grew up to be a professional chef loves all food, but there is one you will never find him consuming.
"I have an aversion to nitrates. This is the curing ingredient in many types of processed meats. If I consume these cured meats, I get a debilitating migraine headache that makes me extremely ill. On a positive note, maybe I'll live longer by avoiding all the processed foods available today!"
Mom Would Want You to Enjoy This
Executive Chef Michael learned from his mom and grandmother's great cooking skills and to share his creations with others.
"Mom passed away in 1998. However, I have the box with all her handwritten favorite recipes. It is very dear to me." To honor his mother and Executive Chef Michael, we're sharing two beloved recipes from his mom's recipe box. We hope you enjoy making these dishes and that you share your creations with family and friends.
Chicken and Stuffing Casserole
8 to 10 servings
Ingredients:
3- to 4-pound chicken, cooked, skinned, and boned
1 can mushroom soup or cream of chicken
¾ cup milk
1 stick margarine
1 cup chicken broth
1 small package seasoned stuffing mix
Instructions:
Cut chicken into bite-sized pieces and spread them out in a casserole dish.
Mix soup and milk and pour over chicken.
Mix stuffing, melted butter, and chicken broth, then crumble over the chicken and soup mixture.
Bake uncovered at 350F degrees for about 20 minutes until hot and bubbly.
Strawberry Mile-High Pie
Filling ingredients:
1 10 oz. package of frozen strawberries
1 cup sugar
1 tsp. lemon juice
Pinch of salt
2 egg whites
½ pint whipping cream
1 tsp. vanilla
Graham cracker crust ingredients:
3 cups graham cracker crumbs
6 tsp. sugar
2/3 cup melted butter
Instructions:
Thaw berries slightly in a mixing bowl.
Add sugar, lemon juice, salt, and egg whites.
Beat at medium speed for 5 minutes and then at high speed until mixture forms stiff peaks.
Beat whipped cream in a separate bowl and then fold in the vanilla.
Slowly fold whipped cream into the strawberry mixture.
Pile into a pie shell and put into the freezer until it is time to serve (at least 2 1/2 hours).
Form graham cracker crust in a 10-inch pie tin and bake at 350F degrees for 10 minutes.
Allow to cool and pour strawberry mixture into pie crust then serve.