For many people, trying new restaurants is one of the best things about travel.
But deciding where to eat can be tricky for travelers who follow a gluten-free (GF) diet.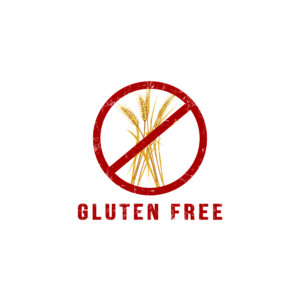 November is Gluten-free Diet Awareness Month. The month raises awareness about the challenges people with celiac disease or wheat allergies face. To help you make the most out of Orlando's culinary scene, we've put together this dining guide.
Follow these four tips to plan a stress-free, gluten-free trip to Orlando.
1.      Research Restaurants Ahead of Time
Before arriving in Orlando, make a list of restaurants that can accommodate a gluten-free diet (and whose menus sound good to you).
Being proactive in your search will help you use your time in Orlando more efficiently. It also gives you a chance to ask restaurants about things like cross-contamination before you're seated at a restaurant that may not be able to accommodate you after all.
To get you started, here are a few restaurants we recommend:
While quick-service options vary, most sit-down restaurants at Orlando's theme parks have GF entrées. For extra assurance, ask to speak to a chef before ordering or email the theme park for guidance before you arrive.
2.      Save Room for Dessert
Your dietary restrictions shouldn't keep you from enjoying the sweeter things in life.
Luckily, there are many places in Orlando where you can pick up gluten-free treats. Prairie House Coffee Co, near Winter Garden, serves fresh baked goods every morning. Erin McKenna's Bakery sells allergy-friendly sweets in Disney Springs.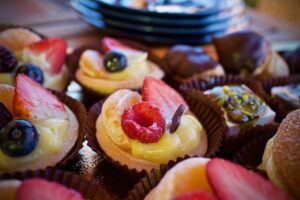 If you have a taste for ice cream, head to 4C Creamery in MetroWest. The owners' daughter follows a gluten-free diet, so they take special care to avoid cross-contamination.
3.      Stock Up on Gluten-Free Goodies
Early into your Orlando trip, stop by a grocery store and pick up some snacks. Most area grocery stores, including local favorite Publix, have extensive GF options.
Before heading out to the parks or convention center, put a few treats in your bag. That way, no matter where the day takes you, you'll know there's something you can eat. Walt Disney World and Universal Orlando Resort allow guests to bring nonperishable food. These parks do ask that you avoid glass containers and hard-sided coolers.
SeaWorld Orlando generally does not allow outside food but makes exceptions for guests with dietary restrictions. Ask to speak with a security or guest services supervisor before going through the bag check.
4.      Don't Forget About Your Hotel's Gluten-Free Offerings
Thanks to observances like Gluten-free Diet Awareness Month, restaurants are becoming more sensitive to guests' dietary needs. As a result, gluten-free dining options are popping up all over Orlando.
If you choose the right hotel, however, you can enjoy gluten-free food right on-site.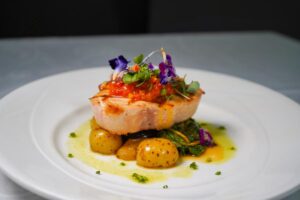 Everglades Restaurant at Rosen Centre is a must for gluten-free diners. This Orlando restaurant's GF options include fresh watermelon and goat cheese salad, grilled swordfish, and tamarind chicken*. Banshoo's menu features freshly made GF sushi rolls. Down the hall, Sam & Bubbe's Lounge is stocked with seltzers, ciders, and wine.
* We are sensitive to our guest's dietary needs. Although we aren't an allergen-free facility, we'll make every effort to avoid cross-contamination of ingredients.
Please inform your server to speak with a chef concerning allergies or diets.