Every year, the Orange County Convention Center (OCCC) hosts over 200 events, attracting 1.5 million people. In June 2022, the Orlando venue's guests will include sales professionals, beauty mavens, and young athletes and dancers.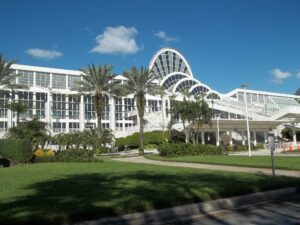 Orange County Convention Center Events in

 June 2022
Headed to the OCCC this June? Here's what to expect: 
Molten Boys Southeastern Volleyball Championships
From June 4-5, boys volleyball players from across Florida will serve up an exciting tournament.  
Doors will open each day at 6:45 a.m. for athletes and coaches and 7:15 a.m. for friends and family.  
Teams must register by May 4 on the Florida Region of USA Volleyball website. Each team must also pay a $500 entry fee. Single-day spectator admission costs $18 and weekend passes are $28. Admission is free for children 8 and younger. All spectators must get a registration code from a participating team's coach. 
Premiere Orlando 
From June 4 through June 6, the City Beautiful will truly live up to its name.  
Premiere Orlando is the largest beauty show in the U.S. It showcases the latest in products, trends, and techniques. Attendees can even show off their skills for cash prizes. The event will feature over 650 classes, open to all. Smaller, hands-on workshops are available for an extra fee. Tickets range from $60 to $110, with lower rates for early registrants and students. 
The show is only open to beauty and spa professionals, and students pursuing these fields. Attendees must show documentation (e.g., business license, beauty school transcript). 
IPW
Every year, the U.S. Travel Association organizes its signature conference, IPW. It is attended by travel exhibitors and buyers and journalists from over 70 countries. This year's event will take place at the OCCC from June 4-8. Expect networking, press conferences, education events, and one-on-one buying appointments. 
Registration costs $250 before March 18 and $400 afterwards. Press members and some industry leaders are eligible for free admission.   
IPW will share the Orange County Convention Center with two other industry events. One focuses on technology in destination marketing. The other is centered around LGBTQ travel and entertainment. Extra admission fees apply to these events

KnowledgeFest Orlando
Can't imagine a Florida vacation without your GPS or satellite radio? Thank the mobile electronics industry.  
From June 10-12, mobile electronics professionals will gather for KnowledgeFest Orlando. The weekend will include educational workshops, manufacturer-led trainings, and networking. Admission is free for Mobile Electronics Association members and $149 for non-members.

National Equipment Fleet Management Conference
The National Equipment Fleet Management Conference will take the wheel from June 15-17.  
While there, department of transportation officials and fleet manufacturers will discuss industry practices and policies. There will be general interest technical presentations and panel talks, plus region-specific sessions. 
The conference grants free admission to one attendee per state DOT. Tickets are otherwise $600 each. Attendees' spouses and other guests can attend select evening events for $100. 
World Ballet Competition Finals
Get ready to grand jeté into the elite world of dance. From June 13-18, the World Ballet Competition (WBC) finals will be in town. 
Dancers will compete for cash prizes, scholarships, contracts, and merchandise. They can also train with esteemed ballet instructors in master classes. The classes are free for solo competitors and $156 for ensemble dancers.  
At the time of publication, participants should have submitted a video audition and a $50 application fee to participate. Prefer to watch from afar? The competition will be livestreamed on the WBC website! 
PLC Institutes
Many teachers and school leaders have embraced the professional learning community (PLC) method. This approach involves employees working together to improve their schools over time.  
Solution Tree will host a Professional Learning Communities at Work® Institute from June 20-22. Through panels and breakout sessions, educators will discuss how to adopt PLC principles. While at the event, attendees can enjoy discounts on Solution Tree books.   
This event is sold out but keep reading for ideas on where to stay nearby. 
AANP National Conference
From June 21-June 26, the Orange County Convention Center will host the largest nurse practitioner conference in the U.S. It is organized by the American Association of Nurse Practitioners (AANP). 
The event will include over 350 general sessions. Artist and motivational speaker Erik Wahl and humanitarian Martin Luther King III will deliver keynote speeches. For an extra fee, attendees can join hands-on workshops. These classes cover everything from aromatherapy to ultrasounds to medical Spanish.  
Admission to the conference ranges from $125-$845.  
HITEC
The Hospitality Industry Technology Exposition and Conference (HITEC®) will close out the month.  
The event is the oldest and largest hospitality tech conference. It is organized by Hospitality Financial and Technology Professionals (HFTP). Attendees can expect to attend engaging general sessions, tutorials, and networking events.  
Entrepreneurs can also enter pitch competition E20X. Judges will pick the recipient of a cash prize. Conference attendees are invited to watch and vote for the people's choice award.  
Conference admission ranges from $675-$1,100. HFTP members are eligible for discounted rates. 
Rosen Centre: Minutes Away from the OCCC
After a busy day at Orange County Convention Center, comfort and fun will be waiting for you just across the Rosen Centre Skybridge. Want more networking time? Meet your colleagues and new connections at one of our unique restaurants. Ready for a rest? Head back to your luxurious guestroom to prepare for the next day's events.