Every year, the Orange County Convention Center (OCCC) hosts over 200 events, attracting 1.5 million people. In June 2022, the Orlando venue's guests will include talented young athletes, beauty experts, and public health pros.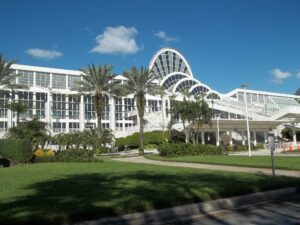 Orange County Convention Center Events in

June 2023
Headed to the OCCC this June? Here's what to expect: 
Boys volleyball teams from across the Southeast will gather at the OCCC for an ace competition.
The event is open to athletes between the ages of 14 – 18. They'll show off their setting and spiking chops to scouts from colleges across the U.S. All interested teams should register by May 3, 2023.
Athletes' families and friends can buy spectator passes starting on May 26. The passes start at $18. When ordering tickets, guests must provide a team code, which they can get from the volleyball club they're supporting.
Rosen Centre is a preferred hotel for the competition.
Glitz and glam come to the Orange County Convention Center during this event.
Premiere Orlando is the largest beauty trade show in the nation. It is open to spa, salon, and other beauty professionals, as well as beauty school students. Attendees must show proof of employment or school enrollment at the door.
Once in, they can explore new products at the exhibition hall, enter competitions, and network at fun mixers.
The trade show will also offer workshops on everything from technical skills to marketing your business. Beauty pros from Florida, Georgia, North Carolina, and Mississippi can earn continuing education credit through some of these sessions.
A room block is available at Rosen Centre for Premiere Orlando attendees.
A/V professionals are no strangers to large convention centers like the OCCC. Usually, they're working behind the scenes at other industries' events.
Mid-June, they'll meet at the Orange County Convention Center for an event of their own.
Infocomm is the largest audiovisual trade show in North America. It features over 100 hours of educational programming. Sessions include product demonstrations, leadership seminars, and workshops on topics like classroom A/V setups and immersive audio.
The event will also feature several networking events, including one for women in the A/V world and ones for professionals working in specific sectors.
This event marks the second volleyball tournament the Orange County Convention Center will host in June.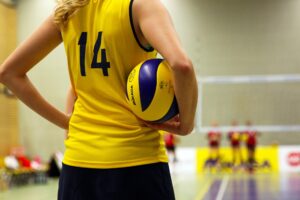 The 50th AAU Girls Junior National Volleyball Championships is open to athletes between the ages of 10 and 18. The competition is hosted by the Amateur Athletic Union (AAU). These athletes are in luck: AAU's volleyball events have been named the best in the U.S. by Sports Travel Awards and Connect Sports. Athletes will compete for trophies and a chance to meet with NCAA recruiters.
To participate, volleyball teams must belong to the AAU and register by May 10.
June 2023 is a busy month for the AAU. In addition to the volleyball championships, they will host the Scholastic Duals wrestling tournament for boys and girls teams from middle and high schools across the U.S.
As with the other athletic events happing at the Orange County Convention Center this June, college reps will be in attendance. Family and friends can attend as well, with the purchase of a $19 daily pass or $50 3-day pass. Discounted tickets are available for kids 9 and younger.
All teams must register by May 23, 2023.
Rosen Centre is an official hotel of the AAU Scholastic Duals.
The Association for Professionals in Infection Control and Epidemiology (APIC) has helped hospitals and nursing homes stop the spread of disease since 1972.
Each year, APIC welcomes about 3,000 health professionals to its conference.
Sessions will cover topics like antibiotic resistance, vaccination programs, and hospital hygiene. There will also be an exhibit hall where attendees can shop for sanitation supplies and protective equipment.
A room block is available at Rosen Centre for APIC Annual Conference attendees.
This trade show for bowling alley owners and managers that rolls into the OCCC each year attracts over 2,000 attendees from over 40 countries.
Attendees can aim for learning about marketing, employee retention, arcade and bar management, and customer service, or line up to strike a deal in the exhibitor hall. Vendors in attendance will include industry kingpins QubicaAMF, Brunswick Bowling, and Storm Products.
On June 29, surrender to the sound of Cheap Trick. The band will close out the event with power-pop hits like "Dream Police" and "I Want You to Want Me."
Rosen Centre is the official conference hotel for Bowl Expo 2023.
Rosen Centre: Minutes Away from the OCCC and Orlando's Best Attractions
After a busy day at Orange County Convention Center, comfort and fun await across the Rosen Centre Skybridge.
Rosen Centre has something for everyone, right in the heart of Orlando. Our bars and restaurants are the perfect place to meet up with colleagues and new connections. Teens in town for a competition will love lounging by our pool in their downtime. Beauty professionals can find inspiration at our on-site spa.
And everyone will love our location.
Our hotel is a 15-minute walk from Pointe Orlando, with live music at Blue Martini and all-ages fun at Main Event. Pointe Orlando is also home to Improv Comedy Theater. This comedy club will host sidesplitting stand-up shows throughout June. And for those planning a bleisure trip, we're a short drive from Orlando's theme parks.