Mills 50, Lake Ivanhoe, College Park, and the Milk District are trendy neighborhoods north of downtown Orlando. An abundance of art galleries, vintage shops, and music venues give these areas a bohemian flair. This creative spirit carries over to the local foodie scene, which frequently makes its way onto food TV shows.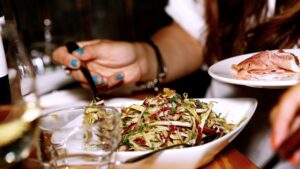 These TV programs showcase the neighborhoods' ambitious restaurateurs, many of whom took big risks to pursue their dreams.
Here are six area restaurants that have done Orlando proud on food TV.
1.      Pastrami Project
In 2017, Guy Fieri explored Orlando's culinary diversity on Diners, Drive-Ins and Dives.
During this episode, the Mayor of Flavortown stopped at the Pastrami Project, a food truck serving New York deli classics. Fieri dug into a sandwich made with lunchmeat that owner and self-proclaimed "pastronomer" George Markward cured on-site. He also sampled a bagel with lox and a side of homemade coleslaw.
The Pastrami Project's menu also features Reubens on fresh-baked rye bread, brisket, and huge breakfast sandwiches.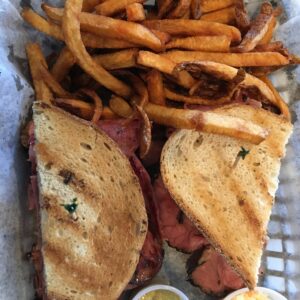 In 2012, Markward left a successful IT career to pursue his dream of bringing old-fashioned food to Orlando. And his leap paid off. The truck is now a Mills 50 mainstay. And in 2020, the Orlando Sentinel named the Pastrami Project the city's best food truck.
2.      Se7en Bites
Like George Markward, chef and food TV fixture Trina Gregory-Propst started her career in a totally different field.
In 2013, she left her spa job to open Se7en Bites. The Milk District eatery pays homage to Gregory-Propst's grandmother. She taught the restauranteur how to make Southern staples like Se7en Bites' signature chicken and biscuits platter. The menu also features classic comfort food like chicken pot pie, burgers, and bread pudding.
Gregory-Propst's Southern cooking has made her a regular in Flavortown.
Se7en Bites was featured in a 2017 episode of DDD, which centered on female chefs in Orlando. She also made frequent appearances on Guy's Grocery Games before winning season 27 in 2021. Se7en Bites has been a winner on the home front, too. In 2022, Orlando Weekly readers voted their breakfast the best in the city.
3.      Saigon Noodle & Grill
The same year that DDD showcased the Pastrami Project and Se7en Bites, the episode "Burgers, Beef and Barbecue" aired.
In it, Guy Fieri visited Saigon Noodle & Grill and its trailblazing owner, Thuy Vincent Nguyen. When Nguyen moved from Vietnam to the U.S. in 1975, he took a job as a dishwasher. Within a few years, he was managing the whole establishment. In the 1980s, he used this experience to open the first Vietnamese restaurant in Mills 50.
He's since moved his business to the nearby Milk District.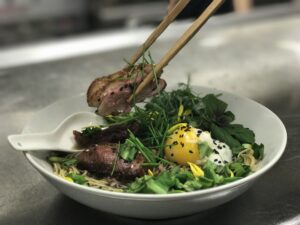 During his moment in the DDD spotlight, Nguyen served Guy Fieri a bowl of piping hot, flavorful pho. He also showed Fieri how he makes his signature shaking beef dish. The stir fry gets its name because it is cooked in a sizzling-hot pan that needs constant shaking. The result is perfectly browned beef served in a rich garlic butter sauce.
The menu also features traditional Southeast Asian dishes like summer rolls and salt-and-pepper chicken.
4.      SwedeDish
Food truck owners Viveca and Håkan Averstedt prove that four wheels can get you anywhere.
The couple moved from Stockholm to Florida in 1998 so that Viveca could further her drag racing career. Her husband served as her crew chief.
When their time with the National Hot Rod Association ended, the pair got a new set of wheels. The Averstedts bought an old NASA truck, painted it blue and gold, and installed a kitchen. And SwedeDish was born.
In 2014, food TV star James Cunningham visited the truck on his show Eat Street.
In the episode, Viveca Averstedt walks Cunningham through making a "Viking Dog." The dish features a sausage topped with mashed potatoes and homemade crab salad, all wrapped in a warm flatbread. Other options include Swedish meatballs with lingonberry jam, grilled cheeses, and a vegan-friendly quinoa burger.
You'll often find SwedeDish in À La Cart, a food truck plaza in the Milk District.
To see where else you can find these scrumptious Scandinavian dishes, check the SwedeDish Instagram page.
5.      White Wolf Café
In season 1 of her show $40 a Day, celebrity chef Rachael Ray set out to find wonderful, wallet-friendly meals in Orlando.
Ray made a stop at White Wolf Café, a longstanding Lake Ivanhoe restaurant. She went wild for the Orlando restaurant's black bean hummus and learned about the White Wolf's history. Michael and Anne Marie Hennessey opened the business as an antique store in 1991. Realizing that antiques abounded in the "Ivanhood," they set themselves apart by selling sandwiches and ice cream.
Over time, the White Wolf transformed into a full-service restaurant, one with awesome antique décor.
Breakfast and brunch entrees include omelets, crabcake Benedict, and fluffy French toast. If you come late in the day, you can enjoy expertly made flatbreads, juicy burgers, and fantastic fish dishes. The inspired menu has earned the restaurant many awards, including a "best breakfast" award from the Orlando Sentinel in 2020.
6.      Tornatore's Restaurant
Chef Robert Irvine has wowed food TV fans with amazing restaurant makeovers since Restaurant: Impossible premiered in 2011.
In 2015, he paid a visit to Denny Tornatore, owner of a College Park pizzeria then known as Caffe Positano. Denny's wife had called the show on his behalf after seeing him struggle to run the restaurant after his business partner departed. In two days and with a limited budget of $10,000, Irvine and his crew gave the restaurant a new look and name.
When it came to the menu, Irvine showed Tornatore how to make flavorful sauces from scratch.
The small fix made a huge difference.
The now-thriving Tornatore's Restaurant still uses fresh ingredients in its authentic Italian dishes. In addition to artisan pies, you'll find rich pasta dishes, mouthwatering steaks, and traditional Italian desserts. Gluten-free options are available.
More Orlando Restaurants You've Seen on Food TV
As one of the top foodie destinations in the U.S., Orlando often takes the spotlight in food TV shows. In fact, the city has been showcased so often that we couldn't fit every restaurant in one post.
As you plan your culinary adventure in Orlando, check out these other guides we've compiled:
Food and Fun at Rosen Centre
If you're planning to eat your way around town, make Rosen Centre your home base.
Our Orlando hotel is on International Drive, close to major highways that go to Mills 50, Lake Ivanhoe, College Park, and the Milk District. At the day's end, put your leftovers in the minifridge and curl up in your plush bed to watch your favorite food TV shows. And be sure to check out our dining options.
From fresh Floribbean flavors to tasty tacos, we have something to satisfy every craving.