Since 2007, Record Store Day (RSD) has helped vinyl collectors around the world get into the groove.
The day always falls on a Saturday in mid-April. It celebrates the entrepreneurial spirit of record store owners while helping collectors find rare pressings of their favorite tunes. Thanks in part to this international holiday, vinyl has made an amazing comeback. In 2020, vinyl record sales surpassed CD sales for the first time since the '80s.
This year, Record Store Day falls on April 22, 2023.
Best Record Stores in Orlando
Those spending Record Store Day in Orlando will find unique record stores all around the City Beautiful. On April 22, visit these seven small businesses that sell a variety of vinyl.
1.      East West Records
In 1971, the local government announced plans to construct the East-West Expressway, connecting east and west Orlando.
The same year, Hannah and Roman Skrobko used the new highway as the namesake for their new record store.
Today, East West Records is the oldest record store in the area. It carries a variety of new and used vinyl, plus music memorabilia, CDs, and DVDs. In 2018, the Skrobkos sold the store to Robert Serros, who as a child frequently rode his bike to the store to spend his allowance on records. Today, Serros and his daughter, Emma, run the family business.
2.      Rock & Roll Heaven
With its plethora of antique stores and trendy boutiques, you'll find vintage vinyl all over Orlando's Ivanhoe Village.
But at Rock & Roll Heaven, you can skip the digging and shop a curated collection of records.
The store opened in 1977. About a decade later, brothers Freddy and Ray Ehmen took it over. They run the store to this day. They carry a huge selection of new and used LPs, including dollar bins jam-packed with hidden gems. You will also find used cassettes, VHS tapes, and LaserDiscs in this Orlando record store.
Jukebox owners and DJs take note: Rock & Roll Heaven also carries a collection of over 250,000 45s.
3.      Park Ave CDs
Park Ave CDs has been a smash hit with music fans since it opened in 1984.
As the name suggests, this Audubon Park, Orlando record store carries a huge collection of compact discs. But the store is also a vinyl collector's paradise. It sells new and used LPs in all formats and features impressive bargain bins. You'll find records in all genres, from mid-century jazz to modern pop and hip-hop. Park Ave also sells movies, books, and locally made home goods.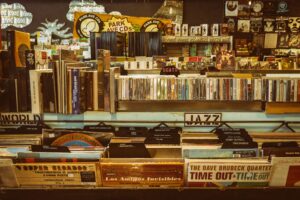 In 2022, Orlando Weekly readers voted Park Ave the best record store, and second-best indie bookstore, in the city.
During RSD 2022, the store hosted live entertainment, unique food and merch vendors, and exclusive giveaways. Dedicated vinyl collectors could sign up for an early-morning shopping slot. Later in the afternoon, the store opened to the public.
4.      Smartpunk
After over a decade of recording and promoting big-time bands like Less Than Jake, local record label Smartpunk set out to become a hub for east Orlando vinyl collectors.
After hosting a series of wildly popular pop-up shops at the University of Central Florida, the owners opened a brick-and-mortar store just off campus. Given Smartpunk's connection with local rock acts, the store is a great place to discover Central Florida's best punk and alt-rock bands. But you'll also find everything from old-school rap singles to Top 40 albums at this mom-and-pop shop.
Last year, Smartpunk went all out for Record Store Day.
In addition to limited releases of excellent LPs, the store's celebration featured food vendors and exclusive merch created by the Smartpunk team.
5.      El Donut Shoppe
Since opening in spring 2015, El Donut Shoppe has been Orlando's go-to spot for rare jazz, funk, soul, and hip-hop albums.
The downtown store, however, carries titles from every genre imaginable. It boasts a vast selection of dollar records at the back of the store. El Donut Shoppe has also become a community hub for local DJs. It frequently hosts listening parties, open scratch sessions, and other events that draw in vinyl lovers from Central Florida and beyond.
6.      Bynx
As any record collector knows, a day spent crate-digging can really work up your appetite.
Luckily, when you shop at Bynx in downtown Orlando, you can break for a snack without leaving the record store.
Bynx is one of Orlando's newest, and most unique, record stores. Like most music shops, it sells a range of albums, books, and collectibles. But it also features a café serving perfectly brewed coffee and tea, plus wine, beer, sandwiches, and charcuterie boards.
There's always something going on at Bynx. On any given day, you may encounter live music, stand-up comedy, an open mic night, or a paint-and-sip event.
7.      Remix Record Shop
Given the number of top-notch music venues in the Mills 50 neighborhood, it's no surprise that the area is also home to one of Orlando's best record stores.
Remix Record Shop opened its first location on Mills Avenue in 2015. The store offers new and used albums of all music genres. If you're all about danceable beats, head to Remix's outpost on nearby Colonial Drive, which specializes in 12-inch house, trance, and electronica singles.
Headed to Remix on Record Store Day? Be sure to arrive early. Previous years' events have been such a hit that owners Cliff and Kelley Tangredi needed to specify that shoppers couldn't camp out in the parking lot the night before.
Book Your Record Store Day Stay at Rosen Centre
Rosen Centre on International Drive hotel is a short drive away from Orlando's best record shops.
It features spacious, climate-controlled guestrooms perfect for stowing your RSD finds as you explore the city. Music lovers will love Harry's Poolside Bar & Grill. This on-site restaurant features a live steel drum act every night.