Another sweltering Florida summer is on its way. What better way to beat the heat than with a cold treat?
Artisan ice cream shop Salt & Straw is expected to come to Disney Springs in 2022 . The family-run chain draws inspiration from its surroundings to create distinctive eats. Salt & Straw attracts a dedicated fanbase wherever it goes. So, what's the scoop on their menu?
Loads of Chilly Choices
If you love ice cream, you can bet that Salt and Straw has something for you.
Each store has classic standbys like sea salt with caramel ribbons, double fold vanilla, and chocolate gooey brownie, plus unique offerings like Arbequina olive oil or guava and cheese. An additional roster of fun flavors rotates each month. Most options are gluten free, and each location offers at least three vegan choices. Many flavors are developed with local businesses. For instance, Miami locations sell a Wynwood Brewing Mango Habanero IPA Sorbet.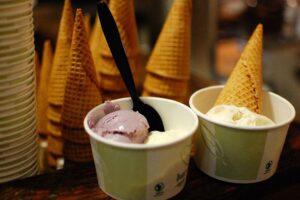 Salt and Straw: Scoops from a Simple Start
Salt & Straw has come a long way since 2011, when cousins Kim and Tyler Malek embarked on a mission to foster community through sweet, icy treats.
The Maleks started with four ice cream machines in Kim's basement. They soon bought a food cart. A few months later, they established their first permanent location in Portland, Oregon. From there, stores popped up along the West Coast. A location opened in Anaheim's bustling Downtown Disney in 2018. Their Florida foray began in 2021, with spots in the hip Miami neighborhoods of Wynwood and Coconut Grove. The Disney Springs location will be the first in Central Florida.
Comfort & Community at Rosen Centre
At the heart of Salt and Straw is a commitment to top-tier hospitality and meaningful community ties. Sound familiar?
Rosen Centre and Rosen Hotels & Resorts are likewise dedicated to providing guests with an unforgettable stay while also giving back to those that call Central Florida home.