National Southern Food Day is coming up on January 22.
The day is a time to savor your favorite foods from the American South, from biscuits to pecan pie.
The iconic cuisine has its roots in Indigenous, West African, English, French, and Spanish cooking. Through the years, parts of the South have also adopted flavors from Caribbean, Latin American, and Asian cultures. Since Southern cuisine is so varied, there's truly something for everyone.
Orlando has one of the best foodie scenes in the South (and the whole U.S.). So, it's the perfect place to spend January 22.
To help you celebrate, we've compiled this brief guide to Southern food and the best Southern restaurants in Orlando.
1.      The COOP
Technically, many parts of the U.S. can claim chicken and waffles as their own.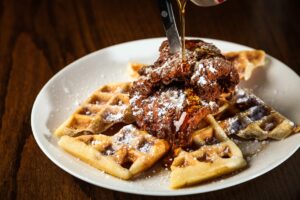 The dish has roots in Pennsylvania Dutch cuisine, which pairs waffles with stewed chicken and gravy. It spread through PA, then up to New York City. Its most popular incarnation, with fried chicken and syrup, likely originated in Harlem.
Despite its Northern roots, the dish has become a Southern staple, any time of day.
The COOP in Winter Park has made crispy, flavorful chicken and waffles since 2014.
The Orlando area restaurant serves them with house-made maple bourbon syrup. You can also feast on sides like buttermilk biscuits, collard greens, and creamy macaroni and cheese.
These tasty offerings have won the COOP many awards. In 2018, they were voted Best Southern Food by Orlando Magazine.
2.      King Cajun Crawfish
Cajun cuisine started when the Acadians left Maine and eastern Canada for Louisiana in the 18th century. After settling on the bayou, the Acadians became known as the Cajuns. They soon adapted their signature dishes to incorporate local ingredients.
For instance, they swapped lobster for boiled crawfish. Rice took the place of potatoes.
In the 1970s, Vietnamese immigrants who settled in Louisiana added their own twist to the Cajun seafood boil. Viet-Cajun cooking incorporates flavors like garlic butter and lemongrass.
Viet-Cajun cuisine soon spread to other areas with large Vietnamese populations, including Orlando.
After moving from Louisiana to Orlando, Chef Melinda Thu Ha Nguyen and her sister Judy opened King Cajun Crawfish. The Viet-Cajun restaurant tops its fried and boiled seafood platters with homemade "ShaBang" sauce. The ShaBang is a flavorful blend of lemon-pepper, Cajun, and garlic-butter sauces. You'll also find Cajun classics like jambalaya and seafood étouffée.
King Cajun Crawfish's flagship restaurant is in Mills 50, which is Orlando's Little Saigon. They also have Dr. Phillips and International Drive locations.
3.      Tibby's New Orleans Kitchen
The Creole cuisine of New Orleans has a lot in common with Cajun food.
Both Louisiana cuisines use the "holy trinity" of green peppers, onions, and celery. Shellfish and andouille sausage feature in both. But thanks to New Orleans' history as a port town, Creole cuisine is less dependent on local ingredients. As a result, Creole dishes are more likely to use imported produce like tomatoes and limes.
If you're looking for classic Creole cooking in Orlando, meet your krewe at Tibby's New Orleans Kitchen.
The restaurant has locations in the Orlando suburbs of Winter Park and Altamonte Springs.
Tibby's offers Creole staples like po'boys, gumbo, and muffuletta sandwiches with an olive spread. If you're feeling adventurous, start your meal with a slice of shrimp and alligator cheesecake. No matter what you order, it will geaux perfectly with an iconic NOLA drink. Try a hurricane, a smooth Sazerac, or frosty Abita beer.
Finish your meal with airy beignets or creamy bananas Foster cheesecake.
4.      Uncle Tony's Backyard BBQ
Pork or beef. Vinegar, tomato, or mustard-based sauce. Each region of the South has its own way of making barbecue.
But they all share one thing in common: meat that's slow cooked to perfection. This technique originated in the Caribbean islands. The indigenous Taíno people would smoke meat on wooden platforms over an open flame.
If you're looking for mouthwatering barbecue in Orlando, head to Uncle Tony's Backyard BBQ.
The restaurant specializes in Arkansas barbecue. Arkansas pitmasters take inspiration from both the beef-based Texas and pork-based Memphis styles. So at Uncle Tony's, you have your pick of proteins, and they're all roasted in a tangy red sauce.
You can also enjoy chicken and fish dishes, plus classic soul food sides like mac and cheese and collard greens.
5.      Soco Restaurant – Southern Contemporary Cuisine
As we've already seen, Southern food has blended cultures and flavors for centuries. So it's natural that many Southern restaurants have embraced the rise of fusion cuisine. Many Southern chefs combine their families' culinary traditions with their favorite international flavors.
Soco in downtown Orlando serves scrumptious Southern dishes with a global twist.
This means that you can enjoy creamy pimento cheese with a side of Spanish pork belly. Or tacos made with a folded buttermilk biscuit. Vegetarians will love the cauliflower wings in a Korean sauce.
Soco is also a perfect place to enjoy another Southern favorite — bourbon — neat or in a craft cocktail.
6.      Chef Art Smith's Homecomin'
With 1,350 miles of coastline in Florida, fresh seafood is abundant. Inland, you'll find citrus groves and cattle ranches, some of which have been open for generations. And since people from all over have made a home here, our cuisine is as diverse as our population.
You can taste it all at Chef Art Smith's Homecomin' in Disney Springs.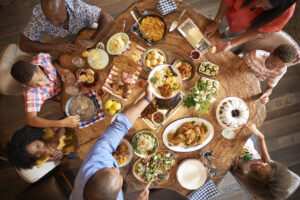 The restaurant truly is a homecoming. Art Smith is a sixth-generation Floridian and a Disney College Program alum. He broke into the culinary world cooking for Oprah Winfrey and other stars. Along the way, Smith himself became a celebrity.
He opened restaurants all over the country. Then, in 2016, he returned to Walt Disney World Resort to set up shop.
With dishes like Key West conch chowder and St. Augustine mahi-mahi, you can eat around the whole state. You'll also find Southern staples like shrimp and grits, fried green tomatoes, and hush puppies.
Wash it all down with a tropical rum drink or creative moonshine concoction.
7.      Harry's Poolside
Thanks to Florida's large Caribbean population, a unique take on Southern cuisine has emerged here. Floribbean cuisine comes alive with crisp tropical fruits like lime, pineapple, and tamarind. Flavorful spice blends and chile peppers add an extra kick of flavor.
If the islands are calling to you, a visit to Harry's Poolside is in order.
Unwind with gorgeous pool views, a cold cocktail, and breezy steel drum music. Enjoy the fusion flavors of mojo chicken, guava shrimp pinchos, or a Puerto Rican tripleta sandwich.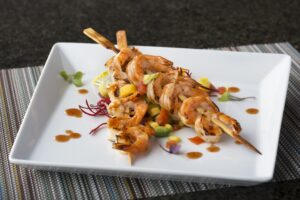 You'll find our Floribbean delights in Rosen Centre.
If you're headed to Orlando for a culinary tour of the South, Rosen Centre is the perfect home base. Our hotel's location on International Drive puts you close to Orlando's top restaurants and attractions.