"Cinco De Tello"
June Challenge Winning Recipe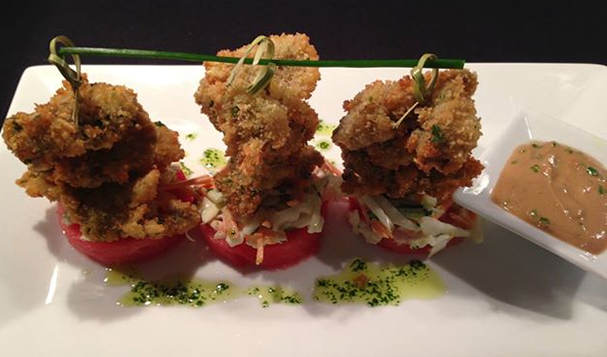 Makes 24 fresh oysters (yields 4 servings)
Flour Coating
1 teaspoon black pepper
3 teaspoon garlic powder
Pinch of cayenne pepper (optional)
Salt & pepper t/t
Egg Dip
5 large eggs, slightly beaten
1 cup club soda
Panko Coating
3 cups panko (Japanese)
1 tablespoon dried parsley
Directions:
Using a standard breading method, to bread the oysters by dipping oysters in the flour mixture; then dip in egg, then in the bread crumbs. Fry in hot oil at about 350° until golden browned.
Peanut Dipping sauce: (yield 14 oz.)
---
½ cup creamy peanut butter
2 tablespoons soy sauce
2 tablespoons fresh lemon juice, or to taste
1 tablespoon firmly packed light brown sugar
2 large garlic clove, minced
1 ½ cup water
Cayenne to taste
¼ cup chopped scallions
Directions:
In a small heavy saucepan combine the peanut butter, the soy sauce, the lemon juice, the brown sugar, the garlic, water, and the cayenne, bring the mixture just to a boil, whisking until it is smooth. Remove from heat to cool, and then add scallions.
Dill pickled coleslaw (yield 18 oz)
---
3 cup shredded cabbage
1 cup shredded carrots
1/2 cup scallions or chives
1 cup chopped dill pickles
Coleslaw Dressing (yield 12 oz.)
---
Juice of 2 limes (1/2 cup)
1 Teaspoon, parsley coarsely chopped
⅓ Cup pickle juice
2Teaspoon, brown sugar
1 cup mayo
1 Teaspoon, prepared mustard or Dijon mustard
Directions:
Mix diced carrots, scallions, cabbage and pickles in a large bowl.
Add dressing ingredients to the bowl, and stir in.
Finally, add shredded slaw, and blend well. If you need a bit more dressing, add in more pickle juice. Taste and adjust seasoning.
To Assemble:
Place three- 2 ½ inch watermelon triangles on each plate. Top each watermelon with 1 ½ tablespoon of coleslaw. Top coleslaw with 2 fried oysters & skewer. Place ramekin of Peanut Dipping sauce on plate & serve..