Earth Day, a holiday dedicated to all things sustainable, is coming up on April 22.
The day is the perfect chance to do something good for our planet. But any environmentalist will tell you that eco-friendly action shouldn't be limited to a day. More and more, people are treating April 22 as a starting point for a full year of thinking green.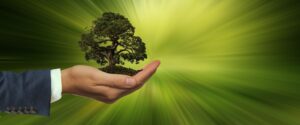 Are you planning a conference, staff retreat, or meeting in Orlando in 2023? If so, take some time this Earth Day to think about planning a green event.
What are green events? Why are they important?
Big corporate events, like conferences and meetings, can have big environmental impacts.
But many professionals rely on these events to collaborate, network, and close sales. So, what is an event planner to do? Plan a green event.
Green events are those that are planned with the environment in mind. And they're easier to pull off than you may think.
How to Plan a Green Meeting or Conference
When planning your next event, consider adopting some (or all) of these practices.
1.      Promote Eco-Friendly Travel
The beauty of meetings and conferences is that people come from all over to share ideas. But the carbon footprint of conference travel isn't so attractive.
Encourage guests to forgo the car rental for public transit. Check out these helpful tips on going car-free in Orlando. Or, if your attendees know each other, help them make carpooling arrangements.
Of course, cars aren't the only source of carbon emissions. Plane travel also has an impact.
Train travel is generally greener. Luckily, Orlando has multiple Amtrak stations, and South Floridians will soon be able to travel here via Brightline.
But if time or finances make train travel unrealistic, a flight might be your attendees' best bet. To make the friendly skies more eco-friendly, consider purchasing carbon offsets. You could also donate money to your favorite environmental nonprofit.
2.      Decrease Event Waste
After the closing speaker has left the stage and attendees mill out of the venue, event organizers are often left with a slew of leftover supplies.
When the average conference attendee produces over 4 pounds of waste a day, the dumpsters can fill up quickly. Decreasing this waste is an easy way to make your event more sustainable. Consider the following:
Go digital. Conduct event registration online and swap hard-copy handouts for PDFs.
Limit your conference swag to practical items that promote sustainability. Think branded thermoses, shopping totes, or silicone straws.
Ensure that there are recycling bins throughout your venue.
Use dry-erase name tags and reusable décor. Avoid printing the year on your signage. That way, you can use these items year after year. As a bonus, these choices will save you money in the long term.
Purchase your event supplies from vendors close to your venue, rather than buying supplies at home and shipping them. Look for bulk items instead of those in individual packaging.
Get a headcount before buying goods like notebooks and pens. Donate any leftover supplies to an Orlando nonprofit, school, or teacher's resource center.
Encourage your vendors and exhibitors to adopt these practices as well. You can even place a sustainability clause in their contracts.
3.      Sip and Snack Sustainably
Event waste is more than old meeting agendas and surplus stress balls.
A 2019 survey asked planners about the waste their events generated. Over half of them said they threw out at least 15% of the food prepared for their events.
To decrease food waste, have guests RSVP for meals ahead of time. Adjust what you order accordingly. At the end of the event, donate any unopened and nonperishable ingredients to a food bank like Second Harvest.
When crafting a sustainable menu, waste isn't the only thing to consider.
The growing and transport of food can generate air and water pollution and greenhouse gases. Address these issues by hiring a caterer that uses organic or local ingredients. You can also ask catering companies about their recycling and composting practices.
4.      Get the Group Outside
When you host your event in the City Beautiful, your attendees will want to see some natural beauty.
Help them get some fresh air by working outdoor recreation into your event. Plan an excursion such as a:
Hike or nature walk
Park cleanup or tree planting
Kayaking trip in one of Orlando's natural springs
Ropes course outing at Tree Trek
Trip to Leu Gardens or the UCF Arboretum
Outdoor excursions are a great way for attendees to get to know each other. Participants will also come away with a newfound appreciation for nature and motivation to protect it.
5.      Make Your Green Practices Known
Eco-action isn't just good for the environment. It can also produce big benefits for companies and event organizers.
For one, going green can boost event attendance. In a recent survey, 85% of respondents said that they preferred going to sustainable conferences. So, as you're promoting your event, be sure to mention that it's a green one.
Once attendees have arrived, keep spreading awareness.
A quick blurb on paper conservation in your digital program can get guests thinking about ways to decrease waste in their own offices. Sustainability is also increasingly becoming key to retaining employees. So, if you're in Orlando for a staff retreat, make sure your employees know about any behind-the-scenes practices you've adopted.
Once the event is over, you can keep publicizing its green practices. For instance, you can mention them in post-event recaps, social media posts, or annual sustainability reports. Strategic storytelling can boost your organization's image and drum up interest in next year's event.
6.      Choose a Green Conference Hotel and Meeting Venue
With so many things to consider when planning an event, adding sustainability to the mix may seem daunting.
But when you pick the right location, you don't have to go it alone.
When touring Orlando event venues, ask the staff about their green practices. Ensure that your venue has recycling, energy conservation, and linen reuse programs. And choose a venue within walking distance of the Orange County Convention Center, shops, and restaurants.
Rosen Centre is a green event venue in the heart of the city.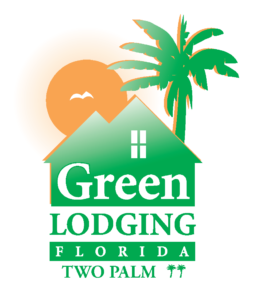 Our Orlando hotel proudly holds a Two Palm designation from the Florida Green Lodging Program. This program recognizes local hotels that have committed to environmental action. When you host your green event at Rosen Centre, you're hosting it at a venue that:
Offers towel and linen reuse programs in our guestrooms
Washes all linens in a state-of-the-art, energy- and water-efficient laundry facility
Features low-flow bathroom fixtures and programmable thermostats in all guestrooms
Uses Energy Star-rated kitchen equipment and efficient lighting
Has recycling bins throughout
Designates dishes made from local or organic ingredients on our catering menus
Donates leftover supplies to schools in underserved communities
Is within walking distance of the convention center, stores, and restaurants
To learn more about our sustainability program, visit Rosen Green Meetings.