Friendcations are having a moment.
As travel restrictions ease and the appeal of Zoom happy hours wears off, we're all looking for ways to reconnect with our squad. And what better way to catch up than a trip to Orlando?
September is an ideal time for an Orlando friendcation.
Since the month marks the beginning of the school year, you'll see smaller crowds, shorter lines, and more people your age at the theme parks. Because it's off-season, flights tend to be cheaper. And while it'll still be hot out (it is Florida, after all), the worst of the summer heat will be behind you.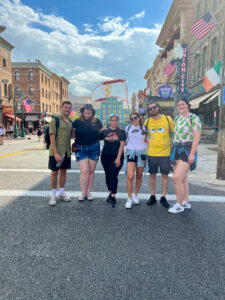 When traveling with friends, planning and communication are key. Here are five tips for having a fantastic friendcation in Orlando.
Have a Pre-trip chat
If you're used to seeing your friends for the occasional brunch or game night, then spending a whole vacation with them might reveal a lot.
You may learn that your friend brews a perfect cup of coffee or can speak three languages. Imagine agreeing to share a guestroom with a friend only to discover that they wake up at 4 a.m. each day to practice their opera singing.
To avoid surprises, get everyone together to discuss their travel routines and preferences. If you don't all live in the same area, a group chat will do.
Some questions to ask are:
What time do you like to wake up and go to bed?
Do you prefer to have packed days or lots of R & R when on vacation?
Would you rather visit theme parks every day or change it up with other attractions?
How do you feel about roller coasters, heights, and spinning rides?
Would you rather end each night with a movie in your guestroom or drinks and dancing?
What one thing do you absolutely need to do or see while in Orlando?
While it can be tricky to discuss finances with friends, it's essential to work out a budget before the fun starts. Talk about the following:
How much are you okay with spending each day?
If you could splurge on one thing, what would it be? For instance, would you rather spring for group mani-pedis or Universal Express passes?
Are you more comfortable splitting restaurant bills evenly or only paying for what you ordered?
Will you ask for separate checks at restaurants? Or will you have one person pay the bill and then send them money later?
Of course, there are fun things to discuss, too. If you're getting matching t-shirts, what will they say? What's your friendcation hashtag? Who do you think can eat the most Dole Whip in a week?
Figure Out Transportation
Before heading to Orlando, decide how you plan on getting around, whether walking, driving, rideshares, or taking buses and shuttles.
Before renting a car, confirm how many drivers your contract allows. There is often a charge to add extra drivers. If you book through AAA or a warehouse club like Costco, you may be able to add someone else for free.
If one person agrees to do all or most of the driving, find a way to thank them, like a group gift or carrying their luggage in the airport.
Take Tons of Friendcation Pictures
Friendcations are all about creating new memories with your favorite people.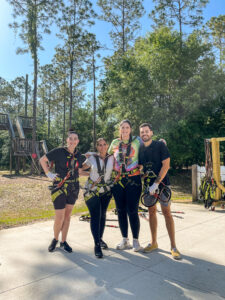 Be sure to capture some of those moments in photos. Get a picture of you and your BFF with matching ears or wands.  Take ussies before and after you hop onto a log flume and see who gets soaked.
If you're out for a special dinner, ask your server to take a group photo.
If you plan on sharing pictures on social media, discuss it first. Your friends may want to approve the images or ask you to wait until the trip's over before posting.
Don't Over-plan
It's nice to have a general idea of what you'll do each day but leave some room for spontaneity.
Depending on your friend group, that may look like an unplanned late-night swim.
Or noticing that Harry Potter and the Escape from the Gringotts has an unusually low wait time and dropping everything to get in line. Or driving out to the coast because someone at the hotel bar told you about their favorite beach.
It could also look like heading to the parks late, or turning in early, for some much-needed downtime.
You and your friends can use this time to call home, nap, or recharge your social batteries.
Spend Quality Time at Your Hotel
With so much to do in Orlando, you and your friends could easily stay out from dusk until dawn.
But don't forget about everything your hotel has to offer. Often, the best friendcation memories are made when hanging out in one of your guestrooms or by the pool.
Rosen Centre is the perfect Orlando hotel for your friendcation.
Each morning, meet your friends at Café Gauguin. Go over your plans for the day as you enjoy our breakfast buffet. Our central location on International Drive and free Universal Orlando shuttle make exploring Orlando a breeze.
Or stick around the hotel and enjoy our Olympic-size pool, two whirlpools, and full-service spa.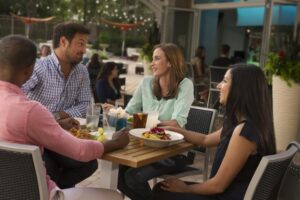 End each day with dinner and drinks at one of our world-class restaurants.