Halloween is coming to town, and all your favorite Orlando theme parks are getting ready to "freak" out! 
We've got Universal Orlando, Disney World, and SeaWorld, and we know they've got big plans for this spooky season. 
Let's get down to the nitty gritty with a breakdown of your 2023 Halloween theme park event lineup. 
Universal Orlando's Halloween Horror Nights
If there's one thing Universal Orlando is known for, it would be its killer annual Halloween Horror Nights event. Halloween Horror Nights is ticketed separately from standard park admission and typically starts later in the evening around 6 p.m. 
Halloween Horror Nights is held in Universal Studios Florida and includes 10 horrific haunted houses and five spooky scare zones, as well as access to live entertainment and the park's thrilling rides. One way or another, you'll be doing some screaming!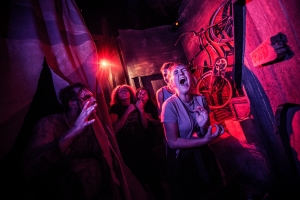 Each year, Universal holds themed haunted houses, all of which the park describes as being inspired by "the biggest names in fear."  
One haunted house is themed on Netflix's hit, Stranger Things. This house is based on season 4 where guests will have the chance to fight Vecna's wicked curse. 
Another haunted house is based on Naughty Dog's terrifying video game, The Last of Us, where guests will get to channel their inner Joel and Ellie and trek through an abandoned Pittsburgh fighting off clickers, hunters, and more. 
Chucky is back and he has taken over his own haunted house this year, and guests must try and survive his ultimate kill count. 
Based on the chilling hit film, The Exorcist, this haunted house is where guests will be faced with surviving the ultimate evil. 
There will also be a haunted house based on Universal Monsters, and guests will delve into the Paris catacombs to face a pack of viciously infamous monsters. 
Other haunted houses include Dr. Oddfellow's Twisted Origins, Dueling Dragons: Choose Thy Fate, YETI: Campground Kills, The Darkest Deal, and Bloodmoon: Dark Offerings. 
This year, you can attend HHN on select nights beginning Sept. 1 through Nov. 4. Single-night tickets start at $79.99. 
Disney World's "Mickey's Not-So-Scary Halloween Party"
This fall, once Disney's Magic Kingdom comes to a close, guests will get the chance to join in on the annual Mickey's Not-So-Scary Halloween Party. This event is also separately ticketed, even if you're already in the park during normal operational hours.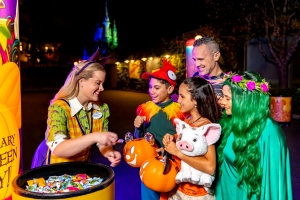 As the season creeps closer, Disney continues to release new information regarding this year's event. 
Expect to be bewitched with the Hocus Pocus Villain Spelltacular as the three sinister sisters terrorize the people of Magic Kingdom. 
Magic Kingdom loves its fireworks display, and that won't change this spooky season thanks to Disney's Not-So-Spooky Spectacular. This display will feature Disney characters and will be hosted by The Nightmare Before Christmas' own Jack Skellington. 
For the little ones, they can put their dancing skills to the test at Storybook Circus' Disney Junior Jam, a dance party featuring characters from Disney Junior shows. 
Watch your favorite Disney characters march in Mickey's Boo-to-You Halloween Parade and view iconic parade floats inspired by scenes like Haunted Mansion. 
Kids can fill up on sugary delights on a variety of trick-or-treat trails throughout the park. 
Mickey's Not-So-Scary Halloween Party runs on select nights from Aug. 11 to Nov. 1. Tickets for adults and children will be as low as $109 and $99 respectively and as high as $199 and $189 respectively, depending on how early or late into the season you choose to attend. 
SeaWorld's Howl-O-Scream
If you think you have what it takes to face your fears, then try your hand at SeaWorld Orlando's annual Howl-O-Scream. 
This year, you'll be faced with resisting the song of the siren, a horrid creature that haunts the deep sea. SeaWorld describes sirens as the embodiment of Howl-O-Scream as they represent "the treacherous allure of the unknown." 
The sirens you'll need to be on the lookout for at this year's Howl-O-Scream are Frost, Flame, Darkness, Hex, and Scratch. Each sister is more ominous than the last, and they have a thirst for new victims. 
This chilling event will feature haunted houses, scare zones, and terrifying shows. This year, returning to the dark depths of SeaWorld is Blood Beckoning, a haunted house; the Blood Light District, a scare zone; and Monster Stomp, a terrifying show. 
There will also be a variety of themed bar experiences, such as Longshoremen Tavern, Tormented, Poison Grotto, and Sirens' Last Call. 
Howl-O-Scream is best suited for a mature audience and contains violence, gore, and blood. It's a separately ticketed event. 
On select nights from Sept. 8 to Oct. 31 from 7 p.m. to 12 a.m., you can take on the terrors that Howl-O-Scream has to offer for as low as $42.99. 
Halloween Spooktacular at SeaWorld
If you're looking for something more family friendly at SeaWorld, then you'll want to jump into the park's Halloween Spooktacular. 
This event is included with park admission and runs from Sept. 16 to Oct. 29 during the daytime from 11 a.m. to one hour before the park closes. 
Before you venture off on your fun-filled Halloween adventure, enjoy Count von Count's Spooktacular Breakfast with your favorite friends from Sesame Street!
Let your kids trick-or-treat at SeaWorld's Halloween Spooktacular. Trails throughout the park will be decorated and filled with plenty of colorful characters. Guests who purchase a reusable bag are welcome to trick-or-treat along the trail. 
Guests can also sit in on the Sesame Street Halloween Parade, as well as Halloween Storytime with Big Bird.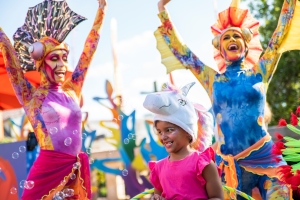 Make your kid's dream come true and let them meet SeaWorld's friendly Halloween mermaids in the park's Key West area. 
There will also be a Halloween scavenger hunt, a Halloween cookie decorating and kids' crafts event, a scarecrow Halloween dance party, a pumpkin garden with a pumpkin queen storyteller, and a costume contest. 
Scary-Good Stays at Rosen Centre
Once you've had your fill of Orlando's frightening festivities, come kick back and relax at Rosen Centre. Our luxurious amenities like our full, inclusive spa will help soothe all your fears away. Let us take care of you and leave you with a comfortable lodging experience you won't forget.