Orlando Thanksgiving at Rosen Centre Hotel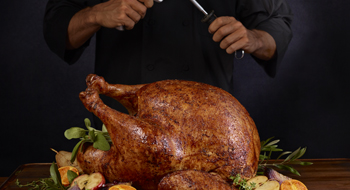 Celebrate Thanksgiving Day with a bountiful buffet at Rosen Centre on International Drive. Savor a cornucopia of classic holiday cuisine paired with exotic new favorites. Give thanks for the perfectly roasted turkey, the creamiest mashed potatoes infused with garlic-herb Boursin cheese, and other timeless classics. Craving global cuisine? Line your plate with green-lipped mussels from New Zealand, fresh-made sushi, or personally made tacos filled with crispy chicken carnitas topped with tangy pickled cabbage slaw and buttery Oaxaca cheese. You may be saying grace twice just for the smorgasbord of sweet indulgences ready at your fingertips including apple streusel pie and cinnamon cheesecake.
Follow @RosenCentre on Instagram and Facebook as we take you through mouthwatering pictures and sizzling videos of our Thanksgiving holiday. Share what your Thanksgiving looks like by using the hashtags #RosensThanksgiving and #ThanksgivingatRosen.
---
Thursday, November 25, 2021 | 11 A.M. – 7 P.M. | $51.95* Per Adult ($55.95 at the door)
Children (Ages 4-12): $19.95* | Children (Ages 3 & Under): Free
Discounted Valet Parking | Free Self-Parking | Reservations Recommended
*Does not include tax and service charge. Cannot be combined with any other discounts, coupons, or specials. Other restrictions may apply.
For reservations, call (407) 996.3969 or click the button below to book online
Soups
---
Roasted cauliflower and smoked cheddar soup (GF, Veg)
Chicken and andouille jambalaya (GF)
Market Salads
---
Mixed greens salad, condiments, dressings
Broccoli, cranberry, cheddar salad (GF, Veg.)
Rosen Centre seafood salad (GF, DF)
Arugula and roasted carrot salad, feta cheese, sunflower seeds, pomegranate acai vinaigrette
Pickled cucumber, heirloom tomato, Bermuda onion salad
International and Domestic Cheese and Tropical Fruit Display
Cheddar, pepper jack, Swiss, Provolone, ruby port wine, Derby sage, Irish porter, Danish brie, Boursin cheeses
Seasonal melons, berries, pineapple, mango, papaya, mandarins, Forelle pears, cracked coconuts
Antipasto Display
---
Roasted red and yellow peppers, marinated artichokes, asparagus, olives, marinated fresh mozzarella, heirloom tomatoes, capicola, mortadella, salami, Italian blue cheese
Butternut squash risotto
Spinach and parmesan ravioli over tomato coulis
Seafood Station
---
Chilled shrimp, crab claws, New Zealand green lip mussels, island marinated mango calamari
Smoked salmon, capers, diced red onion, cream cheese, cocktail rye bread
Lemon and lime wedges, cocktail sauce, Kickin' Bayou sauce
Breakfast Station
---
Smokehouse bacon, sausage links, pancakes, maple syrup
Traditional eggs Benedict, hollandaise sauce
Omelets and eggs made-to-order
Tri-Color bell peppers, ham, mushrooms, spinach, shredded cheddar, chopped bacon, diced tomatoes
Banshoo Sushi
---
Spicy tuna, California rolls, pickled ginger, wasabi, soy sauce
98Forty
---
Make Your Own Tacos
Chicken carnitas, pickled cabbage slaw, Oaxaca cheese
Grilled bistro steak, herb roasted portabellas, balsamic cippolini onions
Green chili crema, roasted corn and black bean salsa, warm flour tortillas
Classic chickpea hummus, spicy black bean hummus, Italian white bean hummus (GF, DF, V)
Zucchini and carrot sticks, toasted mini naan bread
Hot Buffet
---
Carved Dijon-rosemary roasted pork loin, pinot grigio-fig compote
Roast turkey breast, dark turkey, pan gravy, orange-cranberry sauce
Teriyaki salmon over lemongrass quinoa (GF)
Rosen Centre mashed potatoes, garlic herb Boursin (GF)
Sweet potato cakes, cinnamon maple pecan streusel
Caramelized root vegetable and parsley stuffing
Chef's roasted market vegetables
Kid's Buffet
---
Crispy chicken tenders, buttered corn
Macaroni and cheese, mini meatball Mozzarella in tomato basil sauce
Chef Alon's Pastry and Dessert Display
---
Assorted breakfast Danish, croissants, muffins
Pumpkin pie, pecan pie, apple streusel pie, chocolate indulgence cake, red velvet cake
Cinnamon cheesecake, Key lime pie, mocha torte, German chocolate cake
Sweet shots, mini cupcakes and tarts, French pastries, petit fours
Soft serve ice cream, toppings