Orlando Thanksgiving at Rosen Centre Hotel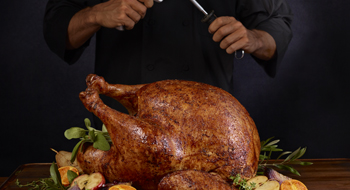 Celebrate Thanksgiving Day with a bountiful buffet at Rosen Centre on International Drive. Savor a cornucopia of classic holiday cuisine paired with exotic new favorites. Give thanks for the perfectly roasted turkey, the creamiest mashed potatoes, and other timeless classics. Craving global cuisine? Line your plate with green-lipped mussels from New Zealand, fresh-made sushi, or warm tacos filled with savory marinated skirt steak topped with papaya salsa, flavorful guajillo sauce, and crispy chayote slaw. You may be saying grace twice just for the smorgasbord of sweet indulgences ready at your fingertips including apple streusel pie and spiced pumpkin cheesecake.
---
Thursday, November 24, 2022 | 11 a.m. – 7 p.m.
$58.95* Per Adult ($65.95 at the door) | $24.95* Per Child (Ages 4-11) | Children 3 & Under Eat Free
Free Self-Parking | Valet Parking Discounted at $15 | Discount for Diners with Reservations
*Prepaid price per person. Walk-ins are welcome, based on availability, at the regular price of $65.95 per adult. All prices plus taxable 22% service charge and 6.5% tax. Gratuity is based on full-priced purchases. Other restrictions may apply. Menu subject to change.
For reservations, call (407) 996.3969 or click the button below to book online.
Soups
---
Stuffed pepper soup (GF, DF)
Roasted butternut squash soup (GF, V)

Market Salads

---

Mixed greens salad bar with condiments and dressings
Pastrami, smoked salmon, and kale salad with dried cherries (GF, DF)
Roasted apple, butternut squash, and radicchio salad with toasted walnuts and apple cider dressing (GF,V)
Zaalouk Moroccan eggplant and tomato salad (GF, V)
Rosen Centre seafood salad (GF, DF)

Local and International Cheese and Tropical Fruit Display

---

Mango and ginger Stilton, Amber Valley port, menage goat cheese, manchego, Irish porter
Seasonal melons and berries, pineapple, mango, papaya, mandarin, cracked coconut

Antipasto Display

---

Marinated artichokes, asparagus, olives, fresh pesto mozzarella, heirloom tomatoes
Peppadews, roasted red and yellow peppers, capicola, mortadella, salami
White bean hummus with toasted naan bread

Seafood Station

---

Chilled shrimp, Jonah crab claws, New Zealand green shell mussels, island marinated mango calamari
Smoked salmon with capers, diced red onion, and hard-cooked egg
Lemon and lime wedges, cocktail sauce, kickin' bayou sauce

Pasta Station

---

Vesuvio pasta tossed with prosciutto, roasted tomatoes, king trumpet mushrooms, and rustic tomato sauce
Pumpkin and mascarpone ravioli with caramelized shallot cream
Vegetable paella

Banshoo Sushi

---

Spicy tuna roll, California roll, shrimp tempura roll
Pickled ginger, wasabi, soy sauce
Asian meatballs

98Forty

---

Marinated skirt steak served in a warm taco
Papaya salsa, chayote slaw, Chef Tello's guajillo sauce

Breakfast Station

---

Omelets made to order, smokehouse bacon, breakfast sausage
Breakfast potatoes, eggs Benedict
Buttermilk waffles, candied pecan-chocolate pearl pancakes
Flavored butters, maple syrup, strawberry syrup

Hot Buffet

---

Carved sofrito-crusted pork steamship, green chile-cilantro pesto
Sliced turkey roast, apple cider pan gravy, fresh cranberry-pineapple relish
Italian ciabatta bread stuffing
Portuguese mahi-mahi caldeirada (GF)
Mashed potatoes (GF, VG)
Roasted root vegetables with broccoli raab, red peppers, and cranberries (GF, V)

Kids' Buffet

---

Crispy chicken tenders, mac and cheese, buttered corn
Mini meatball mozzarella in tomato sauce

Dessert Station

---

Assorted breakfast pastries (coffee cakes, fruit Danishes, mini croissants, and muffins)
Spiced pumpkin cheesecake, mocha torte, red velvet cake, pumpkin pie, key lime pie, apple streusel pie, chocolate indulgence cake, pecan pie, German chocolate cake
No-sugar-added selection
Sweet shots, mini cupcakes, petits fours
Soft serve ice cream with toppings
Warm white chocolate pumpkin crepes
Pumpkin and white chocolate mousse, craisins, white chocolate pearls, raspberry sauce

Bottomless Champagne or Mimosas (21+)

(GF) Gluten-Free, (VG) Vegan, (V) Vegetarian, (GF-DF) Gluten-Free Dairy-Free
A Holiday Treat for You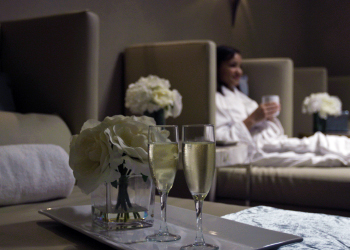 You know you've been good so treat yourself to a decadent exfoliating back treatment with our featured holiday sugar scrubs. Afterward enjoy a relaxing massage and soothing scalp and hair treatment. Top off the holiday experience with a delightful cup of hot cocoa.
80 mins – $180
Available October 1 – December 30, 2022
Winter-proof Manicure & Pedicure
Drier, colder weather calls for careful exfoliation and deep hydration, which is packed into our complete cuticle and nail care makeover. Seasonal scents accent this luxurious treatment. We then pamper your beautifully soft skin with a relaxing stone massage. Last step: choosing a nail color to best match your mood or sweater.
90 mins – $95
Available October 1 to December 30, 2022
---
Surprise someone special with a Rosen Centre gift card. Treat them with a day at the spa, a weekend retreat or a mouthwatering meal. Available to purchase at the hotel.