** Our Thanksgiving event is closed. Please refer to the menu below to sample our great holiday dishes. If you would like to receive special offers about our upcoming holiday events, please visit http://eepurl.com/JzRmn to register.
Thanksgiving Buffet at
Café Gauguin
Thursday, November 22, 2018 | 11:00am – 7:00pm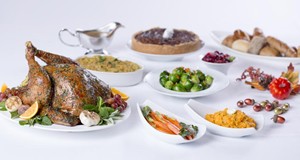 This year start a new tradition and indulge in a tantalizing Thanksgiving Day buffet at Rosen Centre®. Enjoy complimentary champagne. Valet parking is included.
Price: $47.95* per person
Children ages 4-12: $17.95
Children under 4 are free
*Thanksgiving Day only. Reservations recommended. Plus service charge and sales tax. Not valid with any other offers or discounts.
Soups
---
Market Salads
---
Wax Bean with Onion & Dill
Chickpea & Lima Bean with heirloom tomatoes
Pecan Chicken with Cranberry
Roasted Fingerling Potato Salad with Sweet Onion
English Cucumber & Heirloom Tomatoes with Extra Virgin Olive Oil & Chiffonade Basil
Artichoke with lemon & Basil Salad
Cheese & Fresh Fruits
---
International and Domestic Cheese Display
Fresh Fruit & Berries Spectacular
Antipasto Display
---
Featuring an Assortment of Freshly Grilled Red & Yellow Peppers, Portobello Mushrooms, Kalamata Olives, Beefsteak Tomato, Buffalo Mozzarella, Artichoke & Asparagus
Freshly Marinated Calamari, Clams & Mussels
Prosciutto, Salami, Capicola, Mortadella, Assorted Italian Smoked Cheeses
Seafood Station
---
Crab Claws, Spiced Shrimp Boil with Lemon, Cocktail & Cajun Remoulade
Escabeche Marinated & Fried Mahi with Lemon & Lime
Lemon-Basil Shrimp Salad
Smoked Salmon with Classical Garnishes & Fresh Breads
Banshoo
---
Spicy Tuna & California Rolls
98Forty
---
Pasta & Paella
---
Cavatelli with Sweet Sausage, Plum Tomato & Broccolini
Saffron Rice with Spanish Chorizo, Chicken, & Fresh Seafood's
Entrees
---
Roasted Tom Turkey
Giblet Gravy & Cranberry Relish
Coconut Crusted New England Cod
Traditional Cornbread Dressing
Pecan Glazed Sweet Yams
Yukon Gold Mashed Potatoes
Roasted Brussel Sprouts & Baby Carrots
Carving Station
---
Herb Crusted Pork Loin with Apricots & Figs
Omelet and Waffle Station
---
Belgium Waffle with Flavored Butters & Omelets Made-to-Order
Lemon Ricotta Pancakes with Warm Maple Syrup Served with Country Sausage or Applewood Smoked Bacon
Sweet Indulgence
---
Assorted Breakfast Danish, Croissants & Muffins
Banana Foster with Rum Carmel over Vanilla Ice Cream
Swiss Sweet Shots
Chocolate Fondue Fountain with Fresh Strawberries & Golden Pineapple
Chocolate Cinnamon Bread Pudding with Spiced Rum
Mocha Torte
Cinnamon Holiday Cheese Cake
Pineapple Upside Down Cake
Apple Torte
Chocolate Torte
Key Lime Pie
Lemon Torte
French Pastries & Petit Fours
Traditional Pumpkin Pie, Mince Pie & Pecan Pie