2018 Thanksgiving Buffet at Rosen Centre®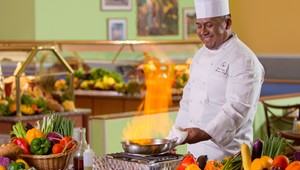 Around Thanksgiving, we remember all the things and people we are most thankful for and spend time with our closest friends and family. Instead of spending most of the day in the kitchen, join us for a fantastic feast. Rosen Centre® offers a Thanksgiving buffet the whole family can enjoy.

Start a new tradition with a gourmet, home-cooked meal and complimentary champagne and mimosas. Last year's menu included seasonal soups, market salads, cheese and fresh fruits, antipasto, a seafood station, and traditional Thanksgiving entrees. This year's buffet looks to be even better! Return here throughout the year for updates on Rosen Centre's® Thanksgiving Buffet.
A desktop or laptop Computer is required to view content on this page!