Every year on April 7, Orlando visitors and residents unite to support the area's small business owners for 407 Day.
The day started as a means of supporting local businesses during the pandemic. But people soon realized they didn't need such a serious reason to shop small. Eating, drinking, shopping, and playing in Orlando's small businesses was simply enjoyable. And so, the 4/7 fun has continued.
Why 407? The number serves as the area code for Orlando and many of its suburbs. Across the region, you'll find independently owned attractions, shops, and restaurants that are well worth the visit.
On this 407 Day, celebrate the City Beautiful with a trip to one or more of these awesome Orlando neighborhoods.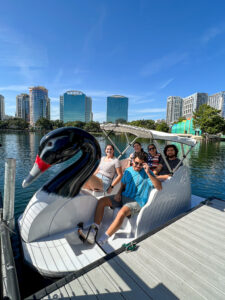 Downtown Orlando
Downtown Orlando is a must-see for anyone looking to experience Orlando like a local. The area boasts a bustling city park (Lake Eola Park) and gorgeous architecture. And, of course, it's home to unique small businesses.
Between the Central Business District, historic Thornton Park, and up-and-coming Parramore, you'll find tons to do on 407 Day.
Eat: Enjoy modern takes on Southern staples at Soco, an upscale eatery in Thornton Park. Eola General serves deli meat sandwiches, vegan cheese boards, and more in a laid-back setting.
Drink: Fuel your Orlando adventure with a cup of organic coffee at Downtown Credo. Celebrate the spooky season any time of year at Halloween-themed haunt Cocktails & Screams.
Shop: Discover Downtown is your one-stop shop for local handicrafts and souvenirs. History buffs will find Central Florida-themed books and art in the Orange County Regional History Center's gift shop.
Play: The Dr. Phillips Center for the Performing Arts hosts big names in music, comedy, and theater each month. Keep the culture trip going at the Wells'Built Museum of African American History and Culture.
Mills 50, Ivanhoe Village, and the Milk District
The hottest trends meet time-told traditions in the neighborhoods due north of downtown.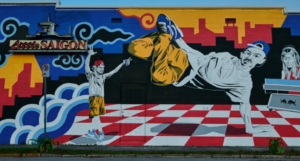 Mills 50 is known as Orlando's Little Saigon and is full of authentic Asian restaurants. Ivanhoe Village sports some of the city's oldest and biggest antique stores. And the Milk District's history is right in its name: the neighborhood is home to T.G. Lee Dairy's headquarters.
But these areas are also home to cutting-edge eateries and inspiring art venues. On April 7, get hip with these Orlando businesses.
Eat: Get ready for a fun-filled day in Orlando with a filling breakfast at White Wolf Café. Later, see why Tori Tori's small plates earned the Japanese restaurant a Michelin Bib Gourmand designation.
Drink: At Imperial at Washburn Imports, you can sip fine wine and craft beer while admiring quirky décor. Down the road at BANDBOX, you can enjoy craft mocktails in an art deco speakeasy.
Shop: Buy unique East Asian handicrafts at Dong A Imports in Mills 50. Then get a blast from the past in Golden Phoenix Antiques in Ivanhoe Village.
Play: The Mennello Museum features the work of American folk artists. It also has an idyllic and dog-friendly sculpture garden. Rock out at Plaza Live, an epic concert venue with an eclectic lineup of concerts, drag shows, and comedy nights.
East Orlando
In recent years, the eastern reaches of Orlando have attracted waves of students and sun-seeking families from all over.
The boom in population has brought a boom in small businesses. Given the University of Central Florida's major presence in the area, many of these hotspots cater to young adults. But everyone can find something to love in neighborhoods like Avalon Park and Waterford Lakes.
On April 7, plan a full day in East Orlando. Or stop at one of these businesses on the way to a nearby beach.
Eat: Find nourishment and fresh flavors at Purple Ocean. The raw food spot serves acai bowls in Waterford Lakes and on UCF's campus. At Marketplace at Avalon Park, you can find everything from Korean barbecue to fully loaded hot dogs.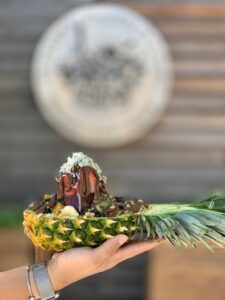 Drink: Vespr is a cozy café with seasonal coffees, smooth nitro cold brew, and local beer. For more frothy fun, visit Bowigens Beer Company in Avalon Park.
Shop: Marketplace at Avalon Park is also home to Avalon General. This boutique sells artisan jellies, natural bath products, and other unique gifts. Or see what your favorite superheroes are up to at Epic Comics.
Play: Tee up a good time at PopStroke, a mini-golf course with rolling greens and challenging water hazards. Nearby Keg Social features 28 bowling lanes, axe-throwing boards, ping pong tables, and more.
Orlando North
Back when the Orange Belt Railway chugged through Central Florida, its easternmost stop was the city of Sanford. Sanford started as a sleepy citrus town. But nowadays, you're more likely to see an orange as a garnish on the drinks served at the city's many bars and breweries.
As you venture between Orlando and Sanford this 407 Day, you'll encounter equally charming towns. These suburbs, like Maitland, Casselberry, and Lake Mary, are also home to great small businesses.
Eat: The Hollerbach family has served wunderbar German food in Sanford since 2001. Alex's Fresh Kitchen in Casselberry has only been open for 3 years. But in that time, their burgers and other handhelds have caught the attention of Orlando Weekly and the Food Network.
Drink: Eden Bar is an open-air watering hole connected to the Enzian, Orlando's only indie theater. Sanford Brewing Company is a kid-friendly gastropub and craft brewery with ample indoor and outdoor seating.
Shop: Blackbird Comics & Coffee House carries board games, vinyl records, action figures, and comics galore. Bunny & Clyde Children's Boutique in Lake Mary has cute clothes for future fashionistas.
Play: Learn about Central Florida's history and creative community at Maitland's Art & History Museums. Animal lovers can take a walk on the wild side at the Central Florida Zoo.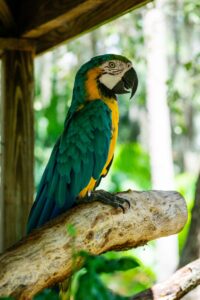 More 407 Day Fun
We love so many of Orlando's unique neighborhoods and small businesses that we couldn't keep to just one blog. For more places to visit this 407 Day, click here. This other guide includes our favorite small businesses near Disney and Universal.
Where to Stay this 407 Day
When planning your April adventure in Orlando, book a stay at Rosen Centre.
Our Orlando hotel is part of Rosen Hotels & Resorts, the area's largest independent hotel brand. Many of our on-site eateries pay homage to the family of our founder and CEO, Harris Rosen. These small business owners made a name for themselves in New York City and instilled an entrepreneurial spirit in Harris Rosen.
While staying with us, you'll find plenty of ways to eat, drink, shop, and play this 407 Day.
Eat: Feast upon Floribbean flavors at Harry's Poolside or New York deli staples at Sam & Bubbe's. These on-site restaurants are named after Harris Rosen's enterprising grandparents.
Drink: Begin your day with a hand-crafted coffee drink at our hotel's café, Smoooth Java. Our on-site bars and restaurants proudly serve Alligator Drool. This craft beer is brewed exclusively for Rosen Hotels & Resorts.
Shop: Our hotel features an on-site boutique perfect for picking up souvenirs and gifts.
Play: Fun and wellness meet at Rosen Centre's spa, fitness center, and pool. As our guest, you'll enjoy discounted rates and preferred tee times at Shingle Creek Golf Club. This award-winning course is located at our sister hotel, Rosen Shingle Creek.
Rosen Centre is on International Drive, in the heart of the city. And our location close to Orlando's major highways makes it easy to explore the small businesses highlighted in this post.