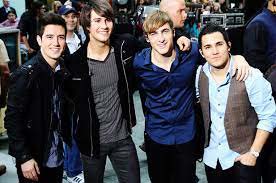 Fictional boy band turned legitimate pop stars Big Time Rush is hitting the road for their "Forever Tour." They will perform in Orlando on July 23, 2022. The show takes place at Addition Financial Arena, on University of Central Florida's main campus.
Who Is Big Time Rush?
Big Time Rush consists of Kendall Schmidt, James Maslow, Logan Henderson, and Carlos PenaVega.
The quartet formed in 2009 for the sitcom Big Time Rush, which aired for four seasons on Nickelodeon. After gaining a massive following, the band began to make music outside of the show. They released three albums with Columbia Records. When the show ended in 2013, the group went their separate ways.
They reunited virtually in 2020 and decided to perform again.
What Can I Expect at the "Forever Tour"?
Big Time Rush will perform popular songs from the height of their fame, such as "Worldwide" and "Boyfriend."
You can also expect new songs such as their recent single, "Call It Like I See It." The all-ages concert will feature upbeat performances, dancing, and the group's signature jokes.
Are There Any Supporting Acts?
The "Forever Tour" features guest performer Dixie D'Amelio, a singer-songwriter and TikTok personality. Her hit singles include "Be Happy" and "One Whole Day."
When Does the Show Start?
The concert starts at 8 p.m. and doors open at 7 p.m. Addition Financial Arena is located on UCF's campus and has a clear bag policy. Before heading there, be sure that your bags and belongings follow venue guidelines.
Keep the Great Times Going at Rosen Centre
When visiting Central Florida for the Big Time Rush "Forever Tour," book a room at Rosen Centre.
Our International Drive hotel provides affordable, yet luxurious, amenities, and convenient access to Orlando's top restaurants, bars, and attractions.