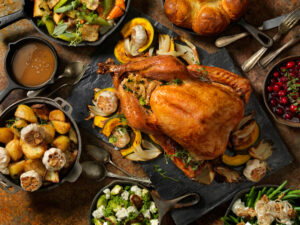 Are you visiting Orlando this Thanksgiving holiday? Don't miss out on a delicious feast with all the comforts of home. Visit Rosen Centre for a festive Thanksgiving Day Buffet.
The Thanksgiving celebration will take place from 11:00 a.m. until 7:00 p.m.
A Savory Thanksgiving Buffet Menu
No matter what your taste buds enjoy, there's sure to be a dish to satisfy your appetite. Our food stations will serve both traditional holiday meals and unique Thanksgiving offerings.
Rosen Centre Thanksgiving buffet dishes you can indulge in include:
Thanksgiving Classics

No Turkey Day is complete without sliced turkey roast and gravy. We serve ours with fluffy mashed potatoes, ciabatta stuffing, and fresh cranberry-pineapple relish.

Sushi and Pasta Options

Pair a California or spicy tuna roll with Vesuvio pasta or vegetable paella.

Cheese, Antipasto, and Fresh Fruit

Enjoy a charcuterie lover's dream. We'll have an assortment of cheeses, sliced meats, olives, berries, and tropical fruits. Eat it all with hummus and naan bread.

Pumpkin Dishes

We'll serve a selection of pumpkin delights at our dessert station. Enjoy your favorite fall flavor in pie, cheesecake, mousse, and crepes. At our pasta station, you will find pumpkin and mascarpone ravioli with cream sauce.

International Cuisine

Feast on skirt steak tacos with papaya salsa and chayote slaw. You can also devour Portuguese mahi-mahi caldeirada.

Soups and Salads

Enjoy hearty spoonfuls of gluten-free stuffed pepper or roasted butternut squash soup. Stop by the salad bar for mixed greens, seafood salad, or Moroccan eggplant and tomato salad.

Fresh Seafood Station

Treat your palate to shrimp, mussels, calamari, smoked salmon, and crab claws.

Full Breakfast Station

Start your day with bacon, sausage, waffles, eggs Benedict, and pecan-chocolate pearl pancakes. A chef will be on-site to make omelets to order.

Additional Sweets

Pie is a holiday staple. We'll serve apple streusel, key lime, and pecan varieties. You can also indulge in mini cupcakes, soft serve ice cream, and assorted cakes including red velvet and German chocolate.

Bottomless Drinks

Unlimited champagne and mimosas are available for guests ages 21+.
Thanksgiving Buffet Reservations and Pricing
Reservations are recommended. Call (407) 996-3969 or book online to save your spot. When you make a reservation, you'll lock in the prepaid price of $58.95 per adult.
Walk-in guests are welcome at Rosen Centre's Thanksgiving Day buffet, based on availability. However, buffet prices increase to $65.95 on the day of the event.
Children ages 4-11 are welcome to dine for the discounted price of $24.95. Kids 3 and under eat free.
Enjoy a Luxurious Thanksgiving Vacation in Orlando, Florida
If you are visiting beautiful Orlando this Thanksgiving, book a room at Rosen Centre.
Our clean and comfortable hotel has everything you need to make your holiday a memorable one. We're on International Drive, close to many of Orlando's top attractions.