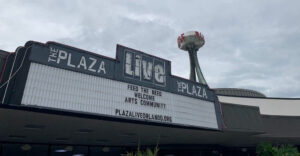 The Plaza Live Orlando is an entertainment hotspot that hosts fan-favorite comedic and musical acts. Check out the following live performances during January 2023.
The Plaza Live Orlando's January Lineup
Miranda Sings


In 2008, singer and comedian Colleen Ballinger started making YouTube videos as Miranda Sings.

She based the obnoxious and self-absorbed character off the singers she met when starting her career. The character became an instant hit, selling out venues across the country. Miranda has also appeared on talk shows, written a book, and starred in the Netflix series, Haters Back Off!

Enjoy a fun-filled evening with Miranda Sings on Friday, January 13, 2023, at 7:30 p.m.

The Doo Wop Project


The Doo Wop Project takes you on an authentic journey through the history of doo-wop music. The show features hits from classic doo-wop acts like The Crests. They'll also showcase the influence of doo-wop on later artists like the Four Seasons, the Temptations, and Michael Jackson.

Catch The Doo Wop Project in action on Thursday, January 19, 2023, at 8:00 p.m.

Big Band of Brothers


Big Band of Brothers is a jazz tribute to the Allman Brothers Band (AAB) that formed for the AAB's 50th anniversary.

The act will perform songs from the album Big Band of Brothers: A Jazz Celebration of the Allman Brothers Band. These AAB hits will be beautifully revamped by Sammy Miller and The Congregation, Lamar Williams Jr., and Drew Smithers. Original ABB member Jaimoe will also make a guest appearance on the Plaza Live stage.

Rock out at this tribute to the legendary Allman Brothers Band. The concert starts on Saturday, January 28, 2023, at 8:00 p.m.

Noel Miller
Noel Miller began his journey in entertainment as a software engineer.
On lunch breaks, he and co-worker Cody Ko began making viral videos. They then channeled their hilarious personalities into the successful Tiny Meat Gang podcast. Now, Miller is embarking on a solo stand-up comedy tour. Expect biting social commentary that draws on his YouTube and Twitch streaming success.
Witness Miller deliver a night full of laughs on Friday, January 20, 2023, at 7:00 p.m.
After a Night Out in Orlando, Enjoy a Stay at Rosen Centre
When planning your trip to the Plaza Live Orlando, book a room at Rosen Centre on International Drive. Our clean, comfortable hotel offers easy access to Orlando's top restaurants, bars, and attractions.