This January, break out the family tartan and head to the Central Florida Scottish Highland Games.
The 45th-annual festival will take place on Saturday, January 14, and Sunday, January 15, 2023. Winter Springs, a northern suburb of Orlando, will host the weekend of athletic feats, Scottish eats, and tenor drumbeats.
Here's everything you need to know about the 2023 games.
What are Scottish Highland games?
The Scottish Highland games are a celebration of Gaelic culture, with a focus on the customs of sparsely populated and mountainous northern Scotland.
The games center around a range of track and field events.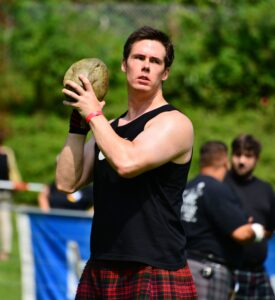 The custom is believed to have roots in the 11th century when a Scottish king tested the speed and strength of those hoping to become his royal messenger. The centuries-auld games peaked in popularity in the 1800s, after King George IV visited the Highlands and took an interest in the region's culture.
Since then, Highland games have popped up all around the world, including here in Orlando.
What can I do at the Central Florida Scottish Highland Games?
The Central Florida Scottish Highland Games will include many iconic Scottish field events, including:
Stone put, an ancient sport similar to shot put, but with a heavy stone instead of a ball
A boulder-carrying competition
Hammer, weight, caber (tree trunk), and sheaf (burlap sack) tossing contests
If you're all about the performing arts, the Scottish Highland Games have something for you, too.
You can enjoy live music by Celtic bands all weekend.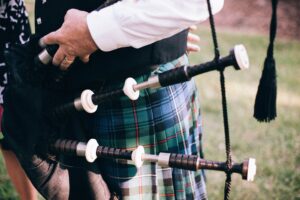 The steady hum of bagpipes and complex rhythms of tenor drums will fill the air during exciting competitions. Skilled drummers and bagpipers will compete in solo and group events. Or admire the careful footwork of folk dancers in a series of dance contests.
You can also live out your Great British Baking Show fantasies in shortbread and scone contests.
Humans aren't the only ones who get to showcase their talents.
A clan of clever border collies will travel to the Highland Games. So will a herd of wandering sheep. As the pups round up the flock, their handlers will explain the breed's important role in Scottish history.
Will there be food and merchandise vendors?
Aye. The Central Florida Scottish Highland Games will host a variety of vendors with Gaelic goods.
In previous years, guests could buy apparel (including kilts), metalwork, stained glass, and coats of arms. Food included fish and chips, meat pies, haggis, shepherd's pie, and ginormous turkey legs. Wine and beer will be available for guests 21+, and ice-cold IRN-BRU soda for everyone.
If you're a Scotch whisky fan, be sure to buy a ticket for the festival's off-site tasting event. There, you can enjoy drams of flavorful firewater.
Is the event family friendly?
Yes! In fact, the Central Florida Scottish Highland Games feature activities just for the wee lads and lasses.
Like the adult games, most of the kids' games entail throwing things long distances. These include a mini-caber toss, sheaf toss, and Wellington boot toss. There's also a haggis hurl, where children will see how far they can throw a piece of the sheep pudding without splitting its delicate casing.
When they've thrown all that they can throw, kids can enjoy activities like tug of war, golf, soccer, and traditional Scottish crafts.
How do I attend the Scottish Highland Games?
If the Central Florida Scottish Highland Games sound well braw (very good), tickets will go on sale on December 1, 2022. Last year, tickets started at $10 for guests who bought them ahead of time. If you buy tickets at the gate, they'll be more expensive, and you'll need to pay with cash.
Interested in competing? Email athletics@flascot.com.
Where should I stay when attending the Highland Games?
If you're heading to the Central Florida Scottish Highland Games, book a hotel room at Rosen Centre.
Our hotel is close to Orlando's major highways, making it easy to get to Winter Springs for the games. When you're not celebrating all things Scottish, enjoy our on-site restaurants, pools, and spa.
Or go out and explore Orlando's top attractions. We're a free shuttle ride away from Universal Orlando Resort and a short drive away from Walt Disney World and great shopping.